Florida slip-and-fall lawsuits are not easy to win – especially since the state modified F.S. 768.0755, requiring plaintiffs to prove actual or constructive knowledge of the dangerous condition that led to the accident. But as a recent $8 million Florida slip-and-fall verdict proves, prevailing isn't impossible.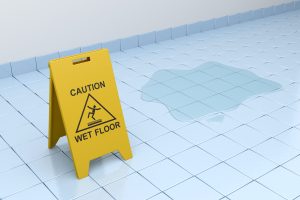 According to media reports, the 48-year-old patron was in the bathroom at the rear of a Hollywood fast food restaurant in 2019 when he slipped and fell on a wet, foreign substance on the floor. The fall caused him to suffer serious injuries to his back, which required surgery. Then after undergoing surgery, he suffered a colon perforation. Not only were his medical bills sky-high, but he was forced to leave the workforce, walking away from a career that had been a major part of his personal identity.
He was awarded $7.8 million in damages, which includes compensation for medical expenses and lost earnings. The defendant in the case, a franchise owner, has filed a motion for a new trial, alleging there was no real evidence that the management team at the restaurant had been told or should have known about the slippery conditions on the bathroom floor.
What Exactly Must Be Proven in a Florida Slip-and-Fall Case?
In order to win a Florida slip-and-fall lawsuit, the person who is injured (or their surviving loved ones) must establish: Continue reading