Can a Florida restaurant be liable for the dangerous condition of an adjacent sidewalk, even if the portion of pavement in question is technically owned by the city? In a pending South Florida trip-and-fall lawsuit, the answer is: Maybe. As our Palm Beach injury lawyers can explain, more than one entity can be liable for a dangerous walkway condition. Here, the final ruling is likely to come down to the level of control the restaurant had over the sidewalk.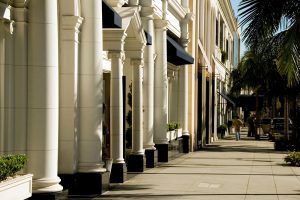 Gass v. Chops City Grill, Inc., is a case out of Naples recently weighed by Florida's 2nd District Court of Appeals. Both the original plaintiff – a woman who was injured after tripping on a section of sidewalk – and the City of Naples, a co-defendant in the case, appealed the lower court's summary judgment in favor of a local restaurant. The restaurant had successfully argued it had no duty of care to the woman or responsibility to maintain the sidewalk, which it didn't own. But the appellate court reversed, finding the restaurant hadn't met its proof burden. The case will now proceed against both defendants.
According to court records, plaintiff was with her then-boyfriend in 2015, on their way to meet another couple at a Naples restaurant. Her boyfriend dropped her off in front of a different restaurant (defendant's) before driving away to find a parking spot. After plaintiff got out of the car, she stepped off the street and onto the sidewalk. Within a couple of steps, she fell to the ground and was hurt. She wasn't sure the exact spot where she fell, but it was an area with pavers in front of the defendant's restaurant. At the time she fell, she said she wasn't paying close attention to the ground, as she was looking around at which direction she needed to go.
In her subsequent premises liability lawsuit, she initially named only the city. Later, she added the restaurant as a co-defendant. She alleged that as a business invitee to the City of Naples, the city owed her a duty of care to maintain the premises/sidewalk in a way that ensured the walkway was safe. Instead, it was defective/dangerous. The city's failure, she asserted, amounted to negligence and was the proximate cause of her injury.
She lodged a similar complaint against the restaurant, which she said had negligently or incorrectly installed the pavers, making them unsafe, defective, and dangerous, resulting in a public tripping hazard. She further alleged the restaurant knew about this dangerous condition and failed to remedy it. Continue reading