Most people assume that Florida slip-and-fall lawsuits are fairly straightforward. However, as our Palm Beach injury lawyers can explain, the truth of the matter is that South Florida slip-and-fall claims, which involve an area of law called premises liability, can quickly become quite complicated.
Some of the factors that are going to come into play as to how thorny a case can get: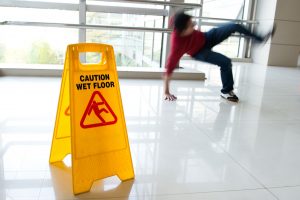 How long did the hazard existed in the area where you fell (or how long you can prove it was there)?
Was the hazard something that occurred regularly at that location?
Who was responsible for maintaining safe walking surfaces at that location? (Were there multiple responsible parties?)
How open/obvious was the hazard that caused the fall?
What was your purpose on site? (Were you a business invitee? A social invitee? A trespasser? All of this will matter in a Florida premises liability claim.)
How badly were you hurt? Did you incur medical bills? Did the injury leave you unable to work for a time?
All of this is going to factor into the viability and value of your Florida slip-and-fall claim and how much it's worth. This is why you'll want to discuss your case with an injury lawyer.
That said, here are five questions that we're frequently asked when approached about a Palm Beach slip-and-fall injury claim: Continue reading