Florida slip-and-fall lawsuits are not easy to win – especially since the state modified F.S. 768.0755, requiring plaintiffs to prove actual or constructive knowledge of the dangerous condition that led to the accident. But as a recent $8 million Florida slip-and-fall verdict proves, prevailing isn't impossible.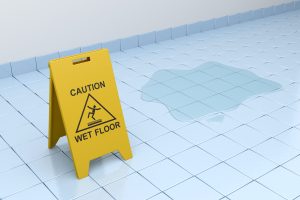 According to media reports, the 48-year-old patron was in the bathroom at the rear of a Hollywood fast food restaurant in 2019 when he slipped and fell on a wet, foreign substance on the floor. The fall caused him to suffer serious injuries to his back, which required surgery. Then after undergoing surgery, he suffered a colon perforation. Not only were his medical bills sky-high, but he was forced to leave the workforce, walking away from a career that had been a major part of his personal identity.
He was awarded $7.8 million in damages, which includes compensation for medical expenses and lost earnings. The defendant in the case, a franchise owner, has filed a motion for a new trial, alleging there was no real evidence that the management team at the restaurant had been told or should have known about the slippery conditions on the bathroom floor.
What Exactly Must Be Proven in a Florida Slip-and-Fall Case?
In order to win a Florida slip-and-fall lawsuit, the person who is injured (or their surviving loved ones) must establish:
You slipped on the floor.
The resulting fall occurred on someone else's property.
The substance on the floor amounted to a dangerous condition.
The property owner had actual or constructive knowledge of it. This means they were either aware of this specific spill or mess OR that it existed for a long enough time or occurred with such regularity that the owner should have been aware of it if they were properly maintaining the property.
The property owner had a duty to mitigate the harm.
The property owner did not timely or effectively mitigate the harm. (This can include inadequate warning.)
You may also be tasked with proving that the condition was not so open and obvious to the person who fell that any prudent person would see it, recognize the risk, and avoid it.
How Do I Know if I Have a Case?
The best way to get a good idea of whether you have an actionable Florida slip-and-fall claim is to talk to an attorney consult with several, if you need to. Most Palm Beach personal injury lawyers offer free initial consultations, during which time they can probably give you a good sense of whether you have a case.
If you're doing a bit of your own research about other Florida slip-and-fall cases, keep in mind that the Florida slip-and-fall statute is relatively new (from 2016). The updated law significantly increased the proof burden for plaintiffs in these cases. Rulings from older cases similar to yours might not be as relevant as they seem at first blush.
Also, due to tort reform legislation that was passed earlier this year, the statute of limitations for Florida slip-and-fall claims has been shortened from 4 years down to 2 years. (Same goes for pretty much all personal injury cases in Florida now.)
If you have a question about what to do next, we can help.
Contact the South Florida personal injury attorneys at Halberg & Fogg PLLC by calling toll-free at 1-877-425-2374. Serving West Palm Beach, Miami, Tampa, Orlando and Fort Myers/ Naples. There is no fee unless you win.
Additional Resources:
F.S. 768.0755, Premises liability for transitory foreign substances in a business establishment
More Blog Entries:
South Florida Slip-and-Fall Injury on Cruise Ship Nets Nearly $300k, May 25, 2022, Palm Beach Injury Lawyer Blog