A fatal Florida parasailing accident involving a vacationer in the Florida Keys has raised questions about the enforceability of liability waivers.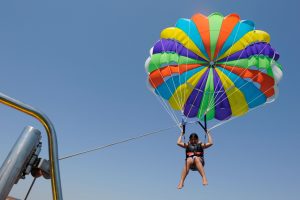 Liability waivers are standard operating procedure for companies that offer inherently risky excursions and activities, including those that rent out/offer charter boats, parasailing, wakeboarding/tubing, jet skis, scuba diving, sky diving, etc.
But as our Palm Beach injury lawyers can explain, although Florida courts have upheld the viability of these waivers, they aren't necessarily a catch-all for every scenario. There are situations where a liability waiver can be successfully challenged. This is particularly true when gross negligence is at issue. Gross negligence is a lack of care that is so egregious, it demonstrates reckless disregard for the safety or lives of others. It amounts to a conscious violation of other people's right to safety.
In the most recent case, a 33-year-old Illinois woman died Memorial Day weekend while parasailing with her two kids. Police reported the boat's captain cut the cable that tethered the woman and her kids to the boat. They plunged into the water, and then were dragged along the surface until they slammed into a bridge. The mother died and her two kids were injured.
For legal experts specializing in catastrophic injury cases, there is a strong argument to be made that people who do not know how parasails are operated shouldn't be compelled to sign waivers of liability allowing parasailing companies to profit handsomely from these ventures while evading responsibility for skirting basic safety measures. In terms of legal enforceability, much of it is going to come down to the exact language in the waiver and the details of what happened. There's also still an open question about whether a parent can waive a child's rights in a liability waiver.
Are There Florida Parasailing Safety Laws?
There are safety laws in Florida that pertain specifically to parasailing – and they came about after several previous tragedies.
The White-Miskell Act, named after two tourists who died in Florida parasailing accidents, requires: Continue reading