A fatal Florida parasailing accident involving a vacationer in the Florida Keys has raised questions about the enforceability of liability waivers.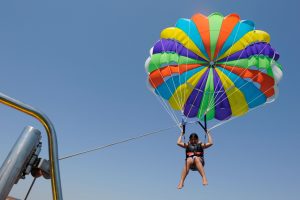 Liability waivers are standard operating procedure for companies that offer inherently risky excursions and activities, including those that rent out/offer charter boats, parasailing, wakeboarding/tubing, jet skis, scuba diving, sky diving, etc.
But as our Palm Beach injury lawyers can explain, although Florida courts have upheld the viability of these waivers, they aren't necessarily a catch-all for every scenario. There are situations where a liability waiver can be successfully challenged. This is particularly true when gross negligence is at issue. Gross negligence is a lack of care that is so egregious, it demonstrates reckless disregard for the safety or lives of others. It amounts to a conscious violation of other people's right to safety.
In the most recent case, a 33-year-old Illinois woman died Memorial Day weekend while parasailing with her two kids. Police reported the boat's captain cut the cable that tethered the woman and her kids to the boat. They plunged into the water, and then were dragged along the surface until they slammed into a bridge. The mother died and her two kids were injured.
For legal experts specializing in catastrophic injury cases, there is a strong argument to be made that people who do not know how parasails are operated shouldn't be compelled to sign waivers of liability allowing parasailing companies to profit handsomely from these ventures while evading responsibility for skirting basic safety measures. In terms of legal enforceability, much of it is going to come down to the exact language in the waiver and the details of what happened. There's also still an open question about whether a parent can waive a child's rights in a liability waiver.
Are There Florida Parasailing Safety Laws?
There are safety laws in Florida that pertain specifically to parasailing – and they came about after several previous tragedies.
The White-Miskell Act, named after two tourists who died in Florida parasailing accidents, requires:
Commercial parasailing operators to log weather conditions before passengers go into the air.
No parasailing activities take place if there are sustained winds of 20 mph or higher or during severe weather conditions.
Operators to maintain a valid license.
Operators to carry a minimum insurance policy.
And yet, the most recent Florida parasailing accident appears to have been very similar to what killed a 15-year-old in 2007 – one of the two after whom the law is named. She died and her 17-year-old sister suffered severe head and brain injuries when the line of their parasail snapped.
Some believe additional legislation and regulation of the industry is an imperative. What's more, the regulations that are in place should be viewed as the minimum standards. Parasailing is a dangerous activity, and tourists trust these operators with their lives. Operators should be going above and beyond to keep their patrons safe.
Can I Sue a Parasailing Company if I Signed a Waiver?
It may be possible to successfully sue a parasailing company for injuries, even if you signed a waiver. It's important to discuss the details with a Palm Beach injury lawyer who can review the specifics of your case and help you determine whether you've got a viable claim.
In the most recent case, we learned that the boat operator cut the rope. We'd want to look closely at proper safety procedure and determine whether this was inadvisable given the circumstances. If there was gross negligence, liability waivers typically will not protect the company from those claims.
If you decide to engage in high-risk activities, you're almost certainly going to be asked to sign a waiver. Read it carefully. Take a picture of it so you have it for your records.
If you are injured and are exploring your legal options, don't assume that if one attorney turns down your case that it's the end of the road. Consider meeting with a few different attorneys for their perspectives before deciding your next step.
Contact the South Florida personal injury attorneys at Halberg & Fogg PLLC by calling toll-free at 1-877-425-2374. Serving West Palm Beach, Miami, Tampa, Orlando and Fort Myers/ Naples. There is no fee unless you win.
Additional Resources:
Liability Waivers Under Scrutiny After Parasailing Death: 'You Can't Sign Away Gross Negligence', June 7, 2022, By Jasmine Floyd, Daily Business Review, Law.com
More Blog Entries:
How Often Do West Palm Beach Injury Lawyers Win? April 26, 2022, Palm Beach Injury Lawyer Blog