If you suffer a Florida slip-and-fall injury, compensation requires more than proving you were hurt on someone else's property. In fact, these cases are quite a bit more complicated than many people assume. A key element in a Florida slip-and-fall case is something called "constructive notice." This is outlined in F.S. 768.0755, and was recently explained in a decision by the U.S. Court of Appeals for the 11th Circuit (the federal court with jurisdiction over Florida).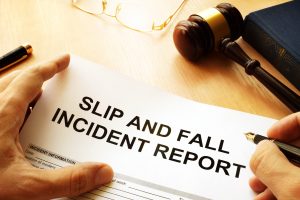 The law requires those in slip-and-fall cases to prove the defendant property owner/manager had actual or constructive knowledge of the danger. Actual knowledge would be proof that they knew about that particular spill or hazard and hadn't taken reasonable steps to rectify it. This is often tough or impossible to prove. Constructive knowledge, however, can be established by showing that either:
The condition existed for such a period of time that the business should have learned about it if they were using ordinary care.
The condition occurred so regularly and it was foreseeable.