Jurors awarded nearly $300,000 to a woman who suffered a broken leg and shoulder in a South Florida slip-and-fall injury that occurred on a cruise ship seven years ago. As our Palm Beach premises liability lawyers can explain, proving legal responsibility in such cases is rarely a cakewalk, particularly in a higher-value claim. Slip-and-fall cases especially have a high proof burden, as outlined in F.S. 768.0755.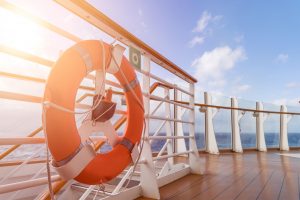 In this case, according to Daily Business Review, the 64-year-old passenger was reportedly walking across an exterior passageway of the ship when she fell. The ship, which departed from Tampa, was in the Caribbean Sea at the time of her fall. As a result of the fall, she sustained serious injuries to both her leg and shoulder (a fractured left femur and a displacement fracture of her right shoulder).
The day after the accident, she disembarked the ship and was treated in Fort Lauderdale's Broward Hospital Medical Center, where she had a rod placed in her leg and plates and screws placed in her shoulder. She endured nearly two weeks in the hospital, followed by nearly a month of inpatient rehabilitation therapy. There were also numerous follow-up orthopedic evaluations, with treatment concluding about five months after the trip. Ongoing health issues stemming from the fall include residual pain and certain limitations. She cannot easily raise her right arm anymore, and long periods of walking leave her in great pain. Despite reaching maximum medical improvement, these problems persist and may never go away.
In her subsequent South Florida slip-and-fall injury lawsuit (filed in federal court), she alleged the owner/operator of the ship was negligent in creating a dangerous condition that resulted in her fall. Specifically, she said her leg caught on a lounge chair, one of many chairs aligned in a row on a narrow, curved passageway next to a restaurant. The woman was walking behind her husband at the time because the walkway wasn't wide enough for them to walk side-by-side. Her husband walking in front of her, she said, obscured her view of the chair. At trial, a cruise ship safety expert for the plaintiff testified that the chairs presented a walking hazard in that they substantially reduced the amount of space pedestrians had while traversing the walkway. Continue reading