As West Palm Beach medical malpractice lawyers, we've been carefully watching the shifting landscape of OBGYN healthcare since the U.S. Supreme Court's overturning of Roe v. Wade last year.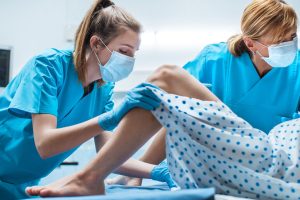 Since then, many states – including Florida – have moved to substantially restricted abortion access. Along with that, there have been a growing number of reports of doctors and hospitals refusing to end pregnancies, even when women are facing life-threatening complications. While most state with abortion restrictions have carved out exceptions when the life of the mother is in jeopardy, healthcare providers say these exceptions are so narrowly written that they run the risk of criminal prosecution or loss of their medical license if they act before the woman's situation is truly dire.
Much of this comes down to the fact that clearly identifying when a condition is "life-threatening" isn't so simple. Every scenario is different, and there may not be universal consensus. Further, even when doctors know the woman's situation WILL inevitably become life-threatening if they don't act, they say the law paralyzes them from doing anything until her life is actually in danger.
Take for example a case that ABC News reported on about a woman in Texas who had to wait until she developed sepsis – a life-threatening infection of the blood – before doctors were willing to provide her with a lifesaving abortion. They knew she would develop sepsis, but reportedly couldn't do anything to help her until she did. She was 4 months pregnant when her water broke, causing her to lose her amniotic fluid, which is essential to keeping a fetus alive. Texas law prohibits abortion after fetal cardiac activity is detected. So even though she arrived at the hospital, shaking, feverish, no amniotic fluid, and no chance the fetus would survive, doctors said they could not provide her immediate emergency abortion care – because the fetus's heartbeat was still detected. She had to wait nearly a full day to develop full-blown sepsis before she could acquire abortion care. Doctors told her, "You will get very sick before we can help you." Had she been a patient in a state with less restrictive abortion laws, she could have received abortion care immediately and avoided sepsis – and all the major health risks that go with that. She reportedly continues to suffer health complications because of that infection.
In Florida, abortions after 6 weeks were recently banned by a law signed by Gov. Ron DeSantis. However, that ban is on pause until the Florida Supreme Court can weigh in. For now, Florida is a top destination for Southerners seeking abortions up to 15 weeks. There's no assured timeline – or outcome – in the state high court decision, but it's widely expected that the conservative-leaning court will allow the abortion restrictions – with no exceptions for rape or incest – to remain in place.
Will Doctors Refusing Abortions Be Shielded From Florida Medical Malpractice Claims?