As West Palm Beach medical malpractice lawyers, we've been carefully watching the shifting landscape of OBGYN healthcare since the U.S. Supreme Court's overturning of Roe v. Wade last year.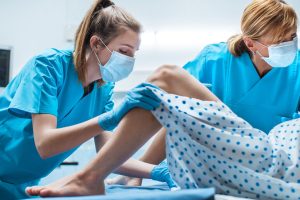 Since then, many states – including Florida – have moved to substantially restricted abortion access. Along with that, there have been a growing number of reports of doctors and hospitals refusing to end pregnancies, even when women are facing life-threatening complications. While most state with abortion restrictions have carved out exceptions when the life of the mother is in jeopardy, healthcare providers say these exceptions are so narrowly written that they run the risk of criminal prosecution or loss of their medical license if they act before the woman's situation is truly dire.
Much of this comes down to the fact that clearly identifying when a condition is "life-threatening" isn't so simple. Every scenario is different, and there may not be universal consensus. Further, even when doctors know the woman's situation WILL inevitably become life-threatening if they don't act, they say the law paralyzes them from doing anything until her life is actually in danger.
Take for example a case that ABC News reported on about a woman in Texas who had to wait until she developed sepsis – a life-threatening infection of the blood – before doctors were willing to provide her with a lifesaving abortion. They knew she would develop sepsis, but reportedly couldn't do anything to help her until she did. She was 4 months pregnant when her water broke, causing her to lose her amniotic fluid, which is essential to keeping a fetus alive. Texas law prohibits abortion after fetal cardiac activity is detected. So even though she arrived at the hospital, shaking, feverish, no amniotic fluid, and no chance the fetus would survive, doctors said they could not provide her immediate emergency abortion care – because the fetus's heartbeat was still detected. She had to wait nearly a full day to develop full-blown sepsis before she could acquire abortion care. Doctors told her, "You will get very sick before we can help you." Had she been a patient in a state with less restrictive abortion laws, she could have received abortion care immediately and avoided sepsis – and all the major health risks that go with that. She reportedly continues to suffer health complications because of that infection.
In Florida, abortions after 6 weeks were recently banned by a law signed by Gov. Ron DeSantis. However, that ban is on pause until the Florida Supreme Court can weigh in. For now, Florida is a top destination for Southerners seeking abortions up to 15 weeks. There's no assured timeline – or outcome – in the state high court decision, but it's widely expected that the conservative-leaning court will allow the abortion restrictions – with no exceptions for rape or incest – to remain in place.
Will Doctors Refusing Abortions Be Shielded From Florida Medical Malpractice Claims?
Some doctors have gone on record to say that it's not a matter of if, but when, some pregnant patients will die from lack of timely abortion care. In turn, there's a high likelihood there will be wrongful death medical malpractice claims stemming from those incidents.
Some say that such cases will have the effect of a counterbalance on the existing fear of legal sanctions that compels doctors to err on the side of NOT providing the abortion, even when the pregnant person's life is at risk. But it may not be enough. Doctors face the possibility of criminal charges for providing abortion care outside the bounds of life-saving necessity, and civil litigation if they err on the other side and don't provide that care. Most are reasonably going to be more concerned about going to jail than civil liability.
Further complicating matters is the fact that liability insurers usually don't cover damages resulting from criminal acts. That provides more incentive for doctors not to act.
As longtime West Palm Beach medical malpractice lawyers, we think it likely we'll see such claims filed in Florida over the next few years. As some doctors argue, abortions ARE the standard of care for pregnancy complications and fetal abnormalities. By not providing these treatments that are widely accepted to be the applicable standard of care because of these laws, patients are in essence breaching that duty. Providing substandard medical care will always increase the risk of harm to patients and civil liability of doctors and other healthcare providers.
Already, we're seeing them in other states. A woman in Missouri is suing two hospitals for medical malpractice after she was refused abortion care when her water broke at 18 weeks pregnant. She ultimately had to travel out of state while extremely sick to obtain an abortion. In a first-of-its-kind federal investigation, the U.S. Centers for Medicaid & Medicare concluded the hospitals violated federal emergency care law in denying her an abortion. That could help her pending medical malpractice claim, though the hospitals insist they acted in accordance with state law. But as the CMS investigation pointed out: Federal law trumps state law. While she ultimately survived, that wasn't a guarantee and she suffered through a terrifying, painful ordeal in the meantime.
Attorneys representing health care providers have said such cases are unlikely to prevail; unless the laws change, it would be difficult to make a case for medical malpractice financial damages when acting in the alternative would mean the doctor faced 25+ years in prison.
We simply haven't had enough of these cases yet make it to trial to say the likely outcome, but we do believe there are several potentially viable legal approaches.
In some cases, doctors may be sued for medical malpractice if they refuse to terminate a pregnancy AND fail to counsel the patient about their options and connect them to providers willing to provide them with an abortion. Such counseling is not barred under these laws, and doctors may have an ethical duty to provide it.
One study identified dozens of cases in 14 states where deficiencies in patient care because of state abortion restrictions led to preventable complications and hospitalizations, with some patients nearly dying. Many developed serious infections, suffered through extreme emotional trauma, and some sustained long-term health impacts such as loss of fertility, stroke, or heart attack.
If you have suffered health complications due to being denied abortion care in Florida, our West Palm Beach medical malpractice lawyers can provide free initial consultations and can help you review your legal options.
Contact the South Florida personal injury attorneys at Halberg & Fogg PLLC by calling toll-free at 1-877-425-2374. Serving West Palm Beach, Miami, Tampa, Orlando and Fort Myers/ Naples. There is no fee unless you win.
Additional Resources:
Malpractice Lawsuits Over Denied Abortion Care May Be on the Horizon, June 23, 2023, By Harris Meyer, KFF Health News
More Blog Entries:
Florida Medical Malpractice Lawsuit Rules Shift With New State Supreme Court Decision, June 6, 2023, West Palm Beach Medical Malpractice Lawyer Blog