Physical therapy is a form of medical treatment that helps injured or ill people of all ages and ability to improve movement and manage pain. These treatments are beneficial in preventing future injuries, rehabilitating someone who has already been injured, or treating patients with chronic conditions or illnesses. But what if the treatment itself results in injury? As our West Palm Beach medical malpractice lawyers can explain, most physical therapy negligence cases will be filed as medical malpractice lawsuits. That's because most claims arise out of a deviation from the standard of care expected of any physical therapist. However, there are some situations wherein a plaintiff will advocate for their claim to be treated as a general negligence case.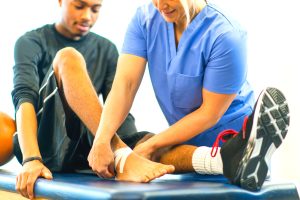 Why does it matter? Because medical malpractice cases are a lot tougher to win. They take longer (but have a shorter statute of limitations than ordinary negligence cases), require more expert witnesses, have a higher proof burden, and must clear more hurdles before they even get a foot in the door. If you try to allege a physical therapy injury was general negligence, be prepared for push back.
What's more, if you file the case as one of general negligence and the court later rules it was, in fact, medical malpractice, your case could be tossed and you have to start all over. If you're past the statute of limitations, you may lose your opportunity to seek damages altogether.
Your personal injury lawyer can help you determine if your case is one of general negligence or medical malpractice, though sometimes the answer isn't always clear-cut. Example: Corbo et al., v. Garcia, decided in 2007 by Florida's 2nd District Court of Appeals. Continue reading