Physical therapy is a form of medical treatment that helps injured or ill people of all ages and ability to improve movement and manage pain. These treatments are beneficial in preventing future injuries, rehabilitating someone who has already been injured, or treating patients with chronic conditions or illnesses. But what if the treatment itself results in injury? As our West Palm Beach medical malpractice lawyers can explain, most physical therapy negligence cases will be filed as medical malpractice lawsuits. That's because most claims arise out of a deviation from the standard of care expected of any physical therapist. However, there are some situations wherein a plaintiff will advocate for their claim to be treated as a general negligence case.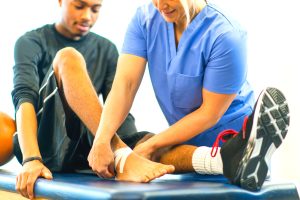 Why does it matter? Because medical malpractice cases are a lot tougher to win. They take longer (but have a shorter statute of limitations than ordinary negligence cases), require more expert witnesses, have a higher proof burden, and must clear more hurdles before they even get a foot in the door. If you try to allege a physical therapy injury was general negligence, be prepared for push back.
What's more, if you file the case as one of general negligence and the court later rules it was, in fact, medical malpractice, your case could be tossed and you have to start all over. If you're past the statute of limitations, you may lose your opportunity to seek damages altogether.
Your personal injury lawyer can help you determine if your case is one of general negligence or medical malpractice, though sometimes the answer isn't always clear-cut. Example: Corbo et al., v. Garcia, decided in 2007 by Florida's 2nd District Court of Appeals.
The plaintiff accused the defendant physical therapist of connecting her arms to a machine that provided electrical stimulation to the muscles. She never disputed that the defendants are health care providers. However, she said the negligence wasn't a result of the treatment itself, but rather a failure of the defendants as business owners to properly maintain their equipment. The malfunctioning equipment is what resulted in her burns. The trial court disagreed, and the 2nd DCA affirmed on appeal.
Injuries sustained in a medical facility or even by medical professionals aren't necessarily medical negligence, but proving it can be tricky. Here, the court referred back to the Fla. 5th DCA ruling in Goldman v. Halifax Medical Center, Inc., wherein the plaintiff alleged the person operating a mammogram machine was negligent in applying too much pressure, causing one of her silicone breast implants to rupture. The plaintiff in that case alleged the problem was improper calibration of the machine. There was a question as to whether this was medical malpractice or general negligence. The court in that case likened the situation to a doctor using an unclean scalpel – a claim that would clearly fall under the umbrella of medical negligence. Claims that rise from the rendering of medical care or services when the patient is injured as a direct result of receiving that treatment or care. The 2nd DCA held the Corbo case analogous to the Goldman case because the injury was a direct result of receiving medical treatment from the defendants, meeting the definition for medical malpractice claims as outlined in F.S. 766.106(1)(a).
The court rejected the plaintiff's assertion that her case was similar to that of Mobley v. Hirschberg, P.A. in which a plaintiff was hit in the head by an x-ray machine at a dental office. In that case, the Fla. 4th DCA ruled it was general negligence because the task of figuring out how to unstick the machine wasn't a medical service. Plus, it happened before treatment had actually started, and there's a difference between setting up equipment to perform treatment and then actually administering it.
If you're injured while receiving physical therapy in South Florida, we can help you determine what kind of case you have and your options for taking legal action.
Contact the South Florida personal injury attorneys at Halberg & Fogg PLLC by calling toll-free at 1-877-425-2374. Serving West Palm Beach, Miami, Tampa, Orlando and Fort Myers/ Naples. There is no fee unless you win.
Additional Resources:
Corbo et al., v. Garcia, March 2, 2007, Fla. 2nd DCA
More Blog Entries:
Florida Medical Malpractice Wrongful Death Law Challenged by Family, April 29, 2019, Palm Beach Medical Malpractice Lawyer Blog