As Palm Beach medical malpractice lawyers, we know that some of the most common claims stem from diagnostic errors. These include situations like failure to identify a serious disease or diagnosing you with one condition when really you have something else. In these situations, a doctor's deviation from the standard of care can cause a patient to lose critical time in treating the actual condition. Sometimes, these mistakes cost patients their lives.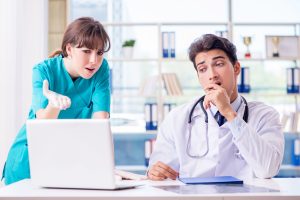 But what if you're diagnosed with something you never actually had? On one hand, you might be relieved to find out you're disease-free. But on the other hand, you may have undergone numerous painful treatments – not to mention the emotional and mental anguish of such a diagnosis – only to find out it was all wholly unnecessary.
The trauma in that situation is valid. However, it might not be legally actionable. That's because of the lack of permanent harm.
The reality is that medical malpractice lawsuits are very expensive. They require expensive expert witnesses, a lot of attorney time and energy, etc. And attorneys accept these cases on a contingency basis, meaning they aren't paid unless and until the plaintiff wins. Even then, most are accepting a percentage of the overall damage award. If there's no permanent harm suffered, that means the potential damage award dwindles substantially – and fewer attorneys are going to be willing to take the risk.
But we do recognize this is incredibly frustrating for patients who have had to endure these ordeals. The Tampa Bay Times recently delved into this issue, highlighting several cases of diagnostic errors that that led to patients believing they had a serious illness when they actually didn't.
In one case, a woman was told two days before Christmas that laboratory tests confirmed a type of cancer in her lymphatic system that usually spreads fast to other organs. Her husband was devastated. They canceled holiday celebrations. They cried together a lot. They talked about the wife's final wishes, and how the husband would manage – financially and otherwise – without her. They canceled an expensive, non-refundable, two-month vacation they had planned so they could focus on her treatment. She upgraded her medical insurance policy to one that was double what she'd previously had. She paid more than $4,000 in tests and consultations. Out of pocket, the couple estimates they were out about $20,000.
But then two months later, a new test result shocked them both: She was completely cancer-free. She'd been misdiagnosed, and as it turned out, she didn't need any treatment at all.
When she contacted several injury lawyers to see about filing a medical malpractice claim, each turned her down. All cited the fact that she's currently healthy and whatever damages she did collect probably wouldn't cover the amount it would take to bring the case to court.
As medical malpractice attorneys, we do understand the deep anger and frustration and desire to hold medical providers accountable when they make major errors. But the reality of such a low damage award means the statutorily-required expert witness would get paid, the lawyer would get paid, but the client probably wouldn't. Most medical malpractice lawyers would find taking such a case to be unethical. But neither can we agree to take less than our regular fee for our work – or ask the expert witness to do so. Continue reading