The parameters of qualified medical experts in Florida medical malpractice lawsuits will be weighed by the Florida Supreme Court. Justices recently allowed the Florida Medical Association, American Medical Association, and Hospital Medical Association to file briefs in the case supporting the hospital defendant.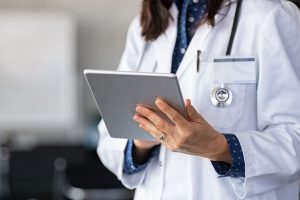 As our Palm Beach medical malpractice lawyers can explain, the court's ruling on this issue could have far-reaching implications because it will determine the criteria for doctors who provide expert opinions, which are required at the very outset of every Florida medical malpractice lawsuit.
The case, University of Florida and Shands Hospital v. Carmondy, involves a plaintiff who filed a medical malpractice lawsuit due to an infection she suffered after undergoing cervical disc fusion surgery in 2016. Her negligence claims were against a neurosurgeon and an advanced registered nurse practitioner. Her petition included affidavits from a physician who practiced internal medicine and cardiology, and who previously had worked as a hospital specialist.
These cases cannot move past the initial phase unless the plaintiff submits affidavits from a doctor or doctors who are experts on par with the defendant who are of the opinion that the defendant breached the accepted standard of care for their profession. An accepted standard of care is not a simple question to answer. Much depends not only on the education, training, and specialty of that medical professional, but also what type of facility they practiced in and in what region. A highly specialized neurosurgeon working in a top hospital in an urban city with ample resources will be held to a different standard than someone of the same educational and training background, but with fewer resources.
Defendants in the case sought to dismiss, at least in part, because they argued the physician affidavits plaintiff filed were not from someone qualified to provide an expert opinion on neurosurgery. The circuit court judge ruled in plaintiff's favor, finding plaintiff's expert physician qualified to give an opinion about post-surgical care provided by the nurse practitioner. The defendants appealed, the appellate court ruled that it lacked jurisdiction to address non-procedural disputes about expert qualifications. However, its ruling noted that other appellate courts had landed differently on the issue – which made it ripe for review by the Florida Supreme Court.
Following the appeal to the state high court, the aforementioned medical lobbies (which have fought long and hard for decades to whittle away access and scope of Florida medical malpractice lawsuits) sought permission to file friend-of-the-court briefs in the case. In so doing, they pointed to the potential broader implications. They underscored that the state law requirement for medical negligence cases mandating an affidavit from medical experts in the same specialty as a prospective defendant shields healthcare providers from claims that are frivolous.
Plaintiff argued the state high court shouldn't even consider this issue, saying the trial court already carried out a proper evidentiary hearing and decided the plaintiff's medical expert was qualified to assess the acceptable level of care the nurse practitioner could provide.
F.S. 766.202(6) outlines the requirements for who legally qualifies as a medical expert witness. According to the statute, the requirements are that the expert witness must:
Regularly practice in their field.
Hold a professional degree from a university or college.
Meet additional requirements for medical expert witnesses, as outlined in F.S. 766.102(5) – which includes specializing in the same specialty as the care provider against whom testimony is offered.
Our Palm Beach medical malpractice attorneys will be carefully watching the developments of this case.
Contact the South Florida personal injury attorneys at Halberg & Fogg PLLC by calling toll-free at 1-877-425-2374. Serving West Palm Beach, Miami, Tampa, Orlando and Fort Myers/ Naples. There is no fee unless you win.
Additional Resources:
University of Florida and Shands Hospital v. Carmondy, April 5, 2022, Florida 1st District Court of Appeal
More Blog Entries:
5 Things to Know About Filing a Florida Personal Injury Lawsuit