Two years ago, a 53-year-old husband and father walked into a regional hospital with a common inflammatory condition – and was dead within a week. Now,  jurors have awarded his widow $20 million from the doctor who prescribed powerful pain medications for his pancreatitis without the benefit of constant machine-monitoring of his oxygen levels, despite his diagnosis of sleep apnea.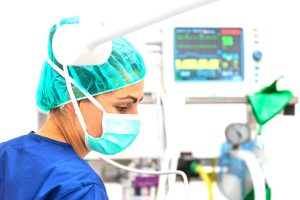 As our Palm Beach medical malpractice lawyers can explain, a big part of this case was about what did NOT happen, as opposed to an active error. Specifically, according to reports on the trial, the doctor failed to even ask whether the patient had a history of obstructive sleep apnea. As several expert medical witnesses for the plaintiff testified, any physician who is prescribing a powerful narcotic should inquire specifically about this condition because it causes the muscles of the throat and palate to close, effectively stopping airflow. This can be perilous even under normal circumstances. But pain medications like Dilaudid, an opioid that is seven (7) times more powerful than morphine, are respiratory depressors. Combine the two, and the risk of a serious or fatal complication skyrockets.
For this reason, the expert medical witnesses testified, the patient should have been placed on a telemetry monitor or pulse oximeter that would have kept careful track of his vital signs while he slept under the influence of the Dilaudid.  Failure to do so, the experts said, fell far short of the standard of care.
The defendant had prescribed the patient increasing doses of the pain medication for more than 18 hours before another doctor discovered him the following afternoon, unresponsive in his bed, heart no longer beating. Emergency resuscitation efforts revived him, but could not reverse the damage done by lack of oxygen to the brain. He was pulled from life support six days later.
Another aspect of this Palm Beach medical malpractice case that our trial lawyers noted was that part of the defense strategy ended up backfiring and being a big win for the plaintiff. For context, this all happened within the first few months of the COVID-19 pandemic. You'll recall that for a time, doctors, nurses, and pretty much all healthcare workers and facilities were being run ragged. Attorneys for the doctor cited this burnout and lack of personnel and resources as part of the reason why constant monitoring of the patient's vitals wasn't feasible. But as the plaintiff's attorneys noted, this would be all the more reason for the doctor to order machine monitoring. Machines don't experience pandemic-related burnout.
In essence, the plaintiff's attorneys took what the defense legal team probably thought was one of its strongest arguments and flipped it on its head. Continue reading