Distracted driving leading to South Florida car accidents has long been a serious problem, especially since smartphones have become so ubiquitous. But while government data puts the number of distracted drivers at roughly 660,000 a day, a recent analysis by Zendrive says it's 100 times worse. The revelation isn't exactly stunning to our West Palm Beach car accident attorneys, but it's nonetheless concerning.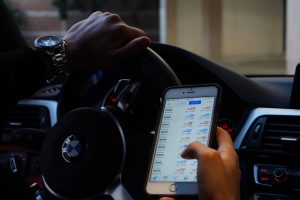 In a study of 2 million drivers traversing some 4.5 billion miles of road over the course of the three months, Zendrive (a motorist behavior analytics firm) concluded that:
60 percent of drivers use their phone at least once daily while operating a vehicle.
40 percent of drivers do so every hour.
69 million drivers use their phones every day.
What's more the number of drivers distracted by smartphones has increased 10 percent in the last year. Most drivers – nearly 9 in 10 – agree distracted driving is a serious issue, but only half admit to engaging in this behavior. In fact, 90 percent consider themselves safe drivers. Analysts determined those considered "heavy phone users" – those who spend three times more than the average – engaged in phone use while driving – spent nearly one-third of their time ignoring the road. Continue reading