Whether we're talking about a tractor-trailer or merely the junk in your trunk, failure to properly secure loads to your vehicle is a crime in Florida. That means it has to withstand the wind, railroad tracks, a pothole-pocked roadway – all the common things can loosen those items and turn it into road debris if it isn't properly strapped down.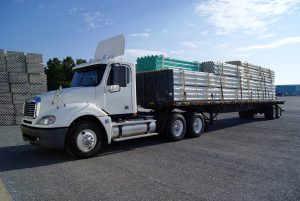 Falling or shifting cargo such as ladders, furniture, tools, tarps and building materials can cause serious South Florida crashes resulting in catastrophic injuries and even death.
AAA reported that over a recent four-year stretch, more than 200,000 crashes were caused by unsecured debris on U.S. roads. These resulted in approximately 39,000 injuries and 500 deaths during that time frame.
Of those incidents:
37 percent of all deaths were caused by drivers swerving to avoid the object, typically overcorrecting and causing the driver to lose control.
One-third occurred between 10 a.m. and 4 p.m. – when many are hauling/moving heavy items like construction equipment or furniture.
Most occurred on Interstate highways, which makes sense given that driving at increased speeds heightens the risk for vehicle parts to become detached.
Florida Unsecured Load Accidents
West Palm Beach car accident lawyers recall some of the more prominent cases over the last few decades, which have included:
A Broward judge killed in 2005 when swerving to avoid a sheet of plastic on I-595 and crashed.
A 34-pound piece of steel flew through the windshield of a minivan traveling on I-95 in Pompano Beach in 2004, killing a woman inside.
In 1998, a 13-year-old was impaled by a steel bar that penetrated her family's minivan as it traveled along I-95 in Fort Lauderdale. She survived, and became an outspoken activist.
She spurred change in the form of the Removal of All Debris Safely, or ROADS, a task force that led to state laws mandating motorists keep their loads secure. The Florida Highway Patrol established a hotline, dialed into the 911 system which allowed for better caller tracking (as this was in the early days of cell phone proliferation).
Has Florida's Unsecured Load Laws Made Us Safer?
Per F.S. 316.520, it's the duty of every owner AND driver (severally) of any vehicle that is hauling any load that might fall or blow away to prevent that material from escaping with appropriate straps, covers, devices, etc. Federal law requires that such devices reasonably ensure cargo won't shift or fall from the vehicle too.
A citation for an unsecured load is typically a non-criminal traffic infraction that is accompanied by a fine. However, if this violation results in serious bodily injury or death, it's considered a criminal traffic offense/second-degree misdemeanor, punishable by up to 60 days in jail and a $500 fine.
One could argue the law has had some impact, given that drivers with unsecured loads are being ticketed and compelled to pay fines.
In a single recent year, law enforcement agencies throughout the state issued nearly 1,350 citations for unsecured loads, with more than 160 of those issued in Broward, 110 in Palm Beach and more than 270 in Miami-Dade. Fines begin at $115 and may increase with subsequent offenses.
Yet these incidents continue to happen.
In 2016, a 22-year-old man barely survived when a piece of metal from a tractor-trailer believed to have a brake issue came flying through the windshield and struck him in the face. He required extensive reconstructive surgery.
That same year, a woman on I-95 near Rockledge in Brevard County narrowly evaded death when a sheet of plywood flew out of a truck bed and slashed through the windshield. The debris penetrated the the glass at neck height, but the 35-year-old was spared from decapitation thanks to the car's A-pillars.
Then just last year, a truck driver with an unsecured load of steel roads caused 30 vehicles to sustain flat tires while northbound on I-95 between Southern Boulevard and Lantana Boulevard in Palm Beach County. That driver was never caught.
In the event the driver in such an incident is never caught, our West Palm Beach car accident attorneys typically help injured motorists or survivors of those killed to secure uninsured motorist coverage through their own auto insurance carrier.
Tips to Prevent Unsecured Load Accidents
The Florida Highway Patrol recommends tying down loose items with ropes, straps and other devices strong enough to secure the load being hauled and prevent it from shifting in any direction.
Loads should also be cover with netting or tarp that is sufficiently sturdy, and they should never exceed the weight limit for the vehicle in question.
If you are injured in a car accident, the South Florida personal injury attorneys at Halberg & Fogg PLLC by calling toll-free at 1-877-425-2374. Serving West Palm Beach, Miami, Tampa, Orlando and Fort Myers/ Naples. There is no fee unless you win.
Additional Resources:
Florida woman cheats death in latest unsecured-load accident, Oct. 15, 2018, By Greg Rasa, AutoBlog.com