March 14, 2013
by Michael R. Zangara, Esq.
The Da Vinci Surgical Robot, manufactured by Intuitive Surgical, Inc., is used in several medical specialties including: Urology, Gynecology, Cardiothoracic, Colorectal, Head & Neck, and General Surgery. Specifically, the Da Vinci Surgical Robot has been used for hysterectomies, prostate removal surgeries, gastric bypasses, gall bladder removals, and thyroid cancer surgeries. Unfortunately, numerous Da Vinci Surgical Robot procedures have led to lawsuits claiming patients have suffered serious life threatening injuries, and in some cases death. Said injuries include, but are not limited to, the following: peritonitis, sepsis, bleeding, perforated/punctured blood vessels, organs or arteries, burned/torn intestines, bowel injuries, bladder and ureteral injuries, and vascular injuries.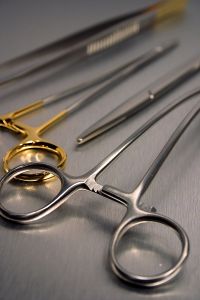 The Da Vinci Surgical Robot was designed as a minimally invasive way for surgeons to perform certain surgeries. One of the primary benefits was its ability to provide surgeons a greater range of motion with the use of a joystick-like control. However, compared to surgery performed by hand, many physicians are uncertain as to the benefits of the procedure. Specifically, the Da Vinci Surgical Robot has many significant disadvantages. Primarily, the sensory feedback upon which surgeons rely is gone. The Robot cannot discern whether body parts are firm, bony, soft, or hard. Without this information, the wrong body part may be accidentally cut. Studies have indicated that on average the robotic surgery takes longer and subject patients are more likely to have post-surgical complications. Moreover, as a result of the Da Vinci's modernistic approach, many physicians lack the required training, and are permitted to use the machine unsupervised after only a few training sessions.


Continue reading "Defective Medical Device: Da Vinci Surgical Robots" »