Recently, a 29-year-old car accident victim was awarded $16 million+ following a protracted Florida legal battle against her own auto insurance company. Although multi-million dollar verdicts are not the norm for most Florida crash cases, our Palm Beach car accident attorneys are sometimes asked about what type of damages one can expect in a typical crash case.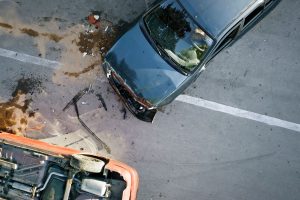 It's important to note that every auto accident case is different. Still, factors that can play into the amount a person expects to receive can include:
The severity of injuries involved.
Who was at-fault (and to what extent – if at all – the plaintiff/injured person shares fault).
Whether the at-fault parties are adequately insured.
How many victims there were (the more victims, typically the less money available per victim).
Whether the injured parties are covered by uninsured/underinsured motorist coverage.
Now let's look at the facts of the recent $16 million car accident verdict, as detailed by The Florida Times-Union.
Details of the $16 Million Florida Crash Case Verdict
The crash occurred in December 2018. Plaintiff was in standstill traffic on Interstate 95 in Jacksonville when another driver in a Honda slammed into the back end of her car. The crash resulted in plaintiff sustaining numerous spinal injuries in her neck and lower back. According to her doctors and lawyer, her condition is expected to worsen over time. Her attorneys say her injuries have had a permanent, adverse impact on her life – from her ability to do her job to her relationships to simply enjoying life.
As our longtime South Florida car accident attorneys can explain, Florida is a no-fault state with respect to auto accidents, but that only provides up to $10,000 in coverage for emergency medical care and lost wages. If one's injuries are serious, as outlined in F.S. 627.737, a person can step outside of that no-fault system and pursue damages against the at-fault driver. Florida doesn't require drivers to carry bodily injury liability coverage, though they are required to attest they can personally cover at least $20,000 if they don't. In any case, lots of drivers are either uninsured or underinsured to cover the full damage if they hurt someone else while driving. This is why drivers are strongly encouraged to carry uninsured/underinsured motorist (UM/UIM) coverage. This is insurance you pay for that kicks in if the at-fault driver doesn't have insurance, fled the scene, or lacks enough insurance to fully cover the damages. But of course just because you faithfully pay on your policy doesn't mean the insurance company won't fight tooth-and-nail over coverage when you need it. Those who suffered serious injuries are encouraged to hire a lawyer to help them secure fair compensation. When insurance companies don't act in good faith, they can be held accountable for this (on top of the car accident claim) in a bad faith insurance action.
In this injury lawsuit, plaintiff named the following defendants:
The driver of the car (for negligence).
The owner of the car (for vicarious liability, per the dangerous instrumentality doctrine).
Plaintiff's own underinsured motorist carrier.
Court records indicate the driver had car insurance with limits insufficient to cover her damages ($100,000 for bodily injury and up to $300,000 per accident). She argued that her own insurer failed to pay the limits of her own UIM policy in a timely manner, thus engaging in bad faith insurance, with remedies spelled out in F.S. 624.155.
The defendants denied liability, and argued any compensation to which plaintiff was entitled should be reduced for comparative fault for plaintiff's "failure to mitigate the damages." Jurors ultimately sided with plaintiff, awarding $4.6 million for past and future medical expenses and $11.7 million for past and future pain and suffering, physical impairment, and mental anguish, per the verdict form.
Available Damages in Florida Car Accident Lawsuits
In Palm Beach car accident lawsuits, there are two primary types of damages: Compensatory and punitive.
Compensatory damages involves money paid to compensate someone for their losses. Special compensatory damages include payback for tangible losses, like medical expenses, lost wages, costs for future care, loss of earning capacity, property loss, etc. General compensatory damages are for the less tangible losses, such as those incurred for pain and suffering, emotional distress, mental anguish, loss of life enjoyment, and loss of consortium/companionship (filed by a spouse).
Punitive damages are those paid for gross negligence or intentional misconduct. In order to pursue punitive damages in any injury case, the judge is going to have to approve it at the outset. About the only time you will see it in car accident cases are in drunk driving accidents or cases involving commercial carriers who knowingly put passengers and other road users in danger.
Finally, there is bad faith insurance. This is a separate claim that stems from the original case, but is a unique allegation that the insurance company failed to engage in good faith and fair dealings with you. For car accident victims, bad faith insurance claims can either be against your own insurance carrier (for PIP or UM/UIM coverage) or against the insurer of the negligent driver. What typically happens in the latter case is that the negligent driver signs over any right they might have for a bad faith claim against their own insurer to the person who was hurt in exchange for avoiding any further legal action against them personally.
If you are injured in a South Florida car accident, our dedicated injury lawyers offer free initial consultations to help you answer basic questions and decide the next step.
Contact the South Florida personal injury attorneys at Halberg & Fogg PLLC by calling toll-free at 1-877-425-2374. Serving West Palm Beach, Miami, Tampa, Orlando and Fort Myers/ Naples. There is no fee unless you win.
Additional Resources:
Injured Jacksonville woman, 29, awarded $16 million after 2018 car crash on Interstate 95, Feb. 17, 2022,. By Katherine Lewin, Florida Times-Union
More Blog Entries:
Can I Collect Punitive Damages for Palm Beach DUI Injuries? Jan. 5, 2022, West Palm Beach Injury Lawyer Blog