A fatal Florida trucking accident lawsuit involving two distracted truck drivers has resulted in a $1 billion verdict.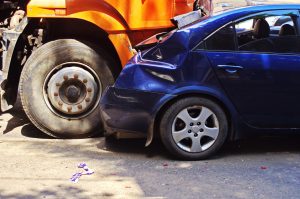 As our Palm Beach trucking accident lawyers can explain, this type of verdict is not typical. However, it does reflect how a punitive damage award can substantially increase the amount one is compensated. Punitive damages, as outlined in F.S. 768.72, require special permission from the court as well as evidence the defendant was grossly negligent or acted with intention or wanton disregard for the safety of others. Punitive damages can amount to treble (triple) the compensatory damages.
This case involved an 18-year-old freshman at the University of North Florida who was struck and killed by a distracted semi-truck driver in 2017. His car was one in a line of standstill traffic on I-95, all backed up because another semi-truck driver had crashed earlier into an RV, causing it to burst into flames. The two vehicles and debris blocked highway traffic well over a mile for more than an hour.
According to the Florida Times-Union, a truck driver approaching from behind was reportedly operating his semi on cruise control at 70 mph. The data recorder on board showed he didn't even attempt to brake until just one second before the fatal impact. However, he wasn't the only one deemed negligent.
Testimony at trial revealed the driver whose semi truck flipped in the earlier crash, causing the stalled traffic, reportedly:
Was distracted by his cell phone at the time of the crash.
Was in violation of federal Hours of Service limit regulations.
Did not have a commercial driver's license at the time of the crash.
Ha previous traffic violations on his record, including for speeding and other acts of aggressive driving.
Was not given a background check prior to being hired.