Florida truck accidents have steadily risen in recent years. The Florida Department of Highway Safety and Motor Vehicles reports in a single recent year, there were more than crashes involving large trucks, resulting in more than a dozen deaths and 1,000 injuries – 57 of those catastrophic.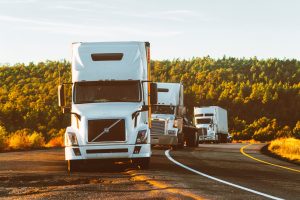 Still, there is little denying how critical trucks are to our economy. They have proven a lifeline to necessary products.
Recently, the Federal Motor Carrier Safety Administration (FMCSA) relaxed hours-of-service rules for commercial drivers carrying essential goods. It remains to be seen whether this might lead to an uptick in more Florida truck accidents.
The normal hours-of-service rules stipulate an 11-hour driving limit after 10 consecutive hours off-duty. Drivers cannot drive beyond the 14th consecutive hour after coming on duty, and off-duty time doesn't extend the 14-hour period. Long haul truckers can only drive for 8 hours at a time before they must take at least a 30-minute break. They also cannot drive more than 60/70 hours over 7/8 consecutive days.
The new hours of service rules offer trucking company more flexibility for drivers ferrying things like medical equipment, cleaning supplies, emergency restocks of food and materials necessary for establishing and maintaining self-quarantine.
On the one hand, there are fewer vehicles on the road with which large trucks might collide as the some states are either locked down or residents and visitors are practicing social distancing. On the other hand, truck drivers are going to be fatigued if they are stretching out the number of hours they are on the road. This is exacerbated by the fact that drivers are having a difficult time food along their routes.
How Truck Driver Fatigue Contributes to Crashes
Fatigued driving is a problem for all motorists, with the CDC reporting 1 in 25 operators has fallen asleep behind the wheel at least once in the last 30 days. It's an even bigger problem for truck drivers because not only do they spend long, tedious hours behind the wheel, they can do a lot more damage when they crash compared to the average passenger vehicle driver.
According to the FMCSA's Large Truck Crash Causation Study, approximately 13 percent of truck drivers involved in crashes were fatigued at the time of collision. That's probably a low estimate, given that tiredness isn't something that can be measured in the same way as drug or alcohol intoxication. Investigators are left to rely on the documented amount of time a driver was behind the wheel that day or week and how much rest they had gotten while off-duty.
Some studies have estimated approximately 5,000 to 8,000 deaths occur annually due to drivers falling asleep.
The problem with driving drowsy is that no one knows exactly when sleep will overcome them. Drivers who are extremely tired cannot control the precise moment they fall asleep. But even if a driver doesn't actually fall asleep, operating a vehicle while driving affects motorists by:
Reducing their ability to pay attention.
Slowing their reaction time if they have to suddenly steer or brake.
Affecting their ability to make good driving decisions.
Those involved with Florida truck accidents caused by fatigued driving should contact an experienced South Florida injury lawyer to learn more about what avenues of compensation may be available.
Contact the South Florida personal injury attorneys at Halberg & Fogg PLLC by calling toll-free at 1-877-425-2374. Serving West Palm Beach, Miami, Tampa, Orlando and Fort Myers/ Naples. There is no fee unless you win.
Additional Resources:
Drowsy Driving: Asleep at the Wheel, U.S. Centers for Disease Control and Prevention
More Blog Entries:
How are Pain and Suffering Damages Calculated?, March 12, 2020, South Florida Injury Lawyer Blog