A fatal Florida trucking accident lawsuit involving two distracted truck drivers has resulted in a $1 billion verdict.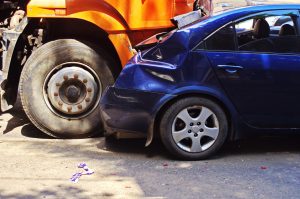 As our Palm Beach trucking accident lawyers can explain, this type of verdict is not typical. However, it does reflect how a punitive damage award can substantially increase the amount one is compensated. Punitive damages, as outlined in F.S. 768.72, require special permission from the court as well as evidence the defendant was grossly negligent or acted with intention or wanton disregard for the safety of others. Punitive damages can amount to treble (triple) the compensatory damages.
This case involved an 18-year-old freshman at the University of North Florida who was struck and killed by a distracted semi-truck driver in 2017. His car was one in a line of standstill traffic on I-95, all backed up because another semi-truck driver had crashed earlier into an RV, causing it to burst into flames. The two vehicles and debris blocked highway traffic well over a mile for more than an hour.
According to the Florida Times-Union, a truck driver approaching from behind was reportedly operating his semi on cruise control at 70 mph. The data recorder on board showed he didn't even attempt to brake until just one second before the fatal impact. However, he wasn't the only one deemed negligent.
Testimony at trial revealed the driver whose semi truck flipped in the earlier crash, causing the stalled traffic, reportedly:
Was distracted by his cell phone at the time of the crash.
Was in violation of federal Hours of Service limit regulations.
Did not have a commercial driver's license at the time of the crash.
Ha previous traffic violations on his record, including for speeding and other acts of aggressive driving.
Was not given a background check prior to being hired.
The driver who struck the line of cars, resulting in the college student's death, was on his 25th hour of driving at the time of the crash. This is a clear violation of federal Hours of Service limits, as he'd driven straight from the Quebec to Palm Beach. He also was not able to read English, something required of all motorists to ensure they can follow safety signs and warnings.
Both drivers and the carriers that employed them (both still in business) were all named as defendants in the case.
Ultimately, jurors deemed the driver/employer involved in the initial crash that stalled traffic to be 10 percent liable for the college student's death. The driver/employer that struck the line of cars from the rear was deemed 90 percent liable. Plaintiffs, the parents of the college student, were awarded $86 million in compensatory damages from the Canadian driver and carrier. The other driver/carrier were ordered to pay $16 million in compensatory damages for emotional distress and $900 million in punitive damages.
Punitive damages like this are intended to clear message to trucking companies: Failure to abide by state and federal trucking regulations harm not only your business reputation but your bottom line.
Truck Accident Lawsuits Require Help From Experienced Civil Trial Lawyers
Because the stakes in almost every Florida truck accident lawsuit are so high, it's imperative to work with injury lawyers who have extensive experience and a track record of success in civil trials.
According to the U.S. Department of Transportation, most deaths in large truck crashes are passenger vehicle occupants. Big rigs can be 20 to 30 times larger than passenger cars, making them incredibly deadly. Fully loaded, a tractor-trailer can take 20 to 40 percent longer to stop than other cars. This is compounded if the roads are slippery or the brakes are poorly maintained. Truck driver fatigue and distraction are also significant crash factors.
More than 4,100 people were killed in large truck crashes in the U.S. in a single recent year.
Contact the South Florida personal injury attorneys at Halberg & Fogg PLLC by calling toll-free at 1-877-425-2374. Serving West Palm Beach, Miami, Tampa, Orlando and Fort Myers/ Naples. There is no fee unless you win.
Additional Resources:
Summary of Hours of Service Regulations, FMCSA
More Blog Entries:
Palm Beach Car Accident Survivors Should Understand the Florida Impact Rule, Aug. 5, 2021, West Palm Beach Truck Accident Lawyer Blog