The parents of a 25-year-old South Florida man who died after a seemingly routine IV line removal are suing for medical malpractice, alleging Palms West Hospital made a preventable medical error – and then tried to cover it up. That's what's been reported in the Broward-Palm Beach New Times.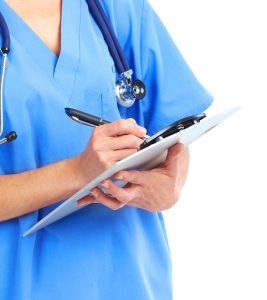 His mother told the newspaper that almost immediately after the line was pulled out, her son began clutching his chest, complaining he was unable to breathe. His oxygen levels fell dramatically and he began to convulse. The doctor who rushed in immediately asked the nurse if she'd just removed the central catheter. The man never regained consciousness after that, and died after his family agreed it was time to take him off life support.
The young man was in the hospital after relapsing into his addiction to opioids. Plaintiffs say the hospital tried to steer them away from staffers' mistakes by telling them their son had died of "broken heart syndrome," because of his guilt for relapsing. Of course, no such condition exists, and his family would later say this led them to suffer the pain of believing they were somehow responsible for not reassuring him of their steadfast support. They were not aware until the medical examiner listed his cause of death what had really happened: A burst of air entered his vein due to improper removal of a central line catheter. This was a preventable medical error, plaintiffs in this wrongful death action allege.
Further, even after receiving the autopsy findings, the hospital failed to report his death as a medical accident, according to investigative findings from the Florida Agency for Healthcare Administration. The agency found the ICU director hadn't even discussed the incident with higher-ups at the hospital.
The newspaper reported the family moved to Cape Coral from Pennsylvania when her son was in first grade. He was a happy child, but had become addicted to opioid painkillers after a car accident his senior year of high school that required surgery. He tried to overcome his addiction by moving to the east coast, taking a job as a trainer of a local gym and enrolling at Palm Beach State College. He was planning a career in physical therapy. So his family was a bit surprised when they received a call that he had overdosed on opioids in August 2016. But, his mother says, they made sure tell him they weren't angry with him and that they were just glad he had survived.
After a week in the ICU, family expected he would be returning home soon. He was sitting upright next to his mother when a nurse came in to remove the central venous catheter, which is inserted into the jugular vein (unlike temporary IV lines, central lines extend deep into a patient's body for purposes of long-term medication delivery). In order to avoid a deadly pocket of air from entering the vein when the line is removed, the patient is supposed to lie face-up and special breathing techniques help control circulatory pressure to prevent a venous air embolism. These precautions reportedly were not taken in this case. Further, the wound was not promptly covered with a dressing. He simply stopped breathing and died soon after.
The summary of the young man's death as provided by the hospital indicated he died as a result of complications from his overdose, listing his cause of death as "natural" – until the county medical examiner's office changed it to "accident."
Contact the South Florida personal injury attorneys at Halberg & Fogg PLLC., Attorneys at Law, by calling toll-free at 1-877-425-2374. Serving West Palm Beach, Miami, Tampa, Orlando and Fort Myers/ Naples. There is no fee unless you win.
Additional Resources:
Palms West Hospital Misled Family About Patient's Death, Lawsuit Alleges, June 19, 2018, By Izzy Kapnick, Broward Palm Beach New Times
More Blog Entries:
Florida Claims Bill Process for Government Liability in Injury Cases Scrutinized, July 12, 2018, West Palm Beach Medical Malpractice Lawyer Blog