One of 10 survivors of reported South Florida sexual abuse involving a former Miami teacher has been awarded $6 million in a federal civil lawsuit against the school district. The teacher, who taught English and Creative Writing for 14 years in Miami-Dade, is also still awaiting a criminal trial, which has been repeatedly delayed due to the pandemic.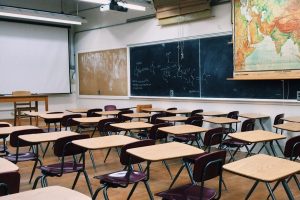 The plaintiff, now an adult, was a minor high school student when she was reportedly sexually assaulted in 2016. She was one many students the teacher allegedly exploited in his years as a Florida educator, using poetry and prose journal prompts to prey on and groom students into relationships. For her, the plaintiff said each incident occurred in the classroom.
The teacher's arrest for the offenses against this survivor happened eight years after another student reported sexual misconduct by the same teacher with multiple students at a different high school in the same school district. Additionally, a school resource officer reportedly saw the teacher engaging with/leaning over students in a "very personal" and "intimate" fashion – but never reported the suspicious behavior, according to The Miami Herald.
After the earlier incidents, the teacher was moved to a different school, but not fired or even reported to authorities. According to the lawsuit, the school board and administrators failed to conduct an adequate, thorough, and reasonable investigations into prior reports of alleged abuse. Further, when the school did launch an investigation, it reportedly failed to protect female students in his classes as he continued to teach. Jurors agreed, awarding the plaintiff survivor $3 million in prior damages and $3 million in future damages.
The details of this case are deeply disturbing, especially because they appear to be part of a bigger problem. In recent years, there have been numerous South Florida sexual abuse allegations against teachers – and school districts failing to protect students. Given that sexual abuse is a widely under-reported crime to begin with, the fact of so many high-profile cases is all the more troubling.
Among recent cases:
A Naples elementary school teacher accused – and recently convicted – of molesting 20 children under age 12 since 2014. Sexual abuse lawsuits are pending against the Collier County School District.
A 37-year-old high school Spanish teacher in Sunrise is accused of engaging in "sexual misconduct" with a 17-year-old student.
A 28-year-old Palm Beach County high school English teacher was arrested for allegedly engaging in sexual misconduct on numerous occasions with a 17-year-old student.
A now-72-year-old former high school government teacher at South Dade High was convicted late last year of repeatedly raping a former student, starting when she was 14. When the charges were first filed, years-old allegations involving other former students began to surface.
Jurors awarded $49 million to the former South Dade High School student who was repeatedly raped by a math teacher in 2017. The verdict was for negligence, sexual assault, and civil rights violation. The teacher involved had previously been accused of inappropriate sexual conduct with another student five years earlier.
A 31-year-old pregnant Hialeah Middle School teacher – previously named Rookie Teacher of the Year – accused of repeated sexual abuse of a 14-year-old boy.
A K-8 teacher in Doral was recently accused of an inappropriate relationship with a 15-year-old student.
While Florida is far from the only state with schools grappling with this, vigilance is an imperative anytime there is a substantial power imbalance between authorities and vulnerable youth. Civil claims can help raise awareness and promote circumspection.
As our South Florida sexual abuse lawyers can explain, when schools fail to properly vet teachers, supervise them, or investigate allegations of misconduct, the damage to abused children is profound and lifelong.
Florida law – specifically F.S. 39.201 – requires school districts to alert law enforcement if they learn – or even suspect – a child is being abused. If they don't, the district as well as any employees involved may be held liable in civil court.
It's our belief school districts that fail in their duty to protect students should be held to full account- not only to extend compensation to those egregiously harmed, but to educate the public and protect more vulnerable children in the future. That said, sexual abuse lawsuits against school districts in Florida can be fraught with significant legal challenges. We must often overcome high burdens of proof to establish wrongdoing. We must also overcome any claims of sovereign immunity by the district.
In any sexual abuse litigation, it's critical to work with civil trial lawyers who have extensive experience and a track record of success in these types of cases.
Contact the South Florida personal injury attorneys at Halberg & Fogg PLLC by calling toll-free at 1-877-425-2374. Serving West Palm Beach, Miami, Tampa, Orlando and Fort Myers/ Naples. There is no fee unless you win.
Additional Resources:
Jury Awards Victim of Miami Teacher who Raped Her $6 Million, Oct. 2, 2021, By Ben Keller, TrueHomestead.com
More Blog Entries:
South Florida Teacher Sexual Abuse Case Alleges School's Negligence, Feb. 15, 2022, South Florida Sexual Abuse Lawyer Blog