One of 10 survivors of reported South Florida sexual abuse involving a former Miami teacher has been awarded $6 million in a federal civil lawsuit against the school district. The teacher, who taught English and Creative Writing for 14 years in Miami-Dade, is also still awaiting a criminal trial, which has been repeatedly delayed due to the pandemic.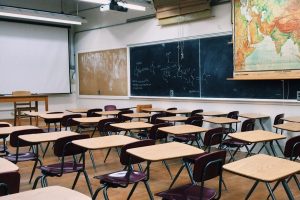 The plaintiff, now an adult, was a minor high school student when she was reportedly sexually assaulted in 2016. She was one many students the teacher allegedly exploited in his years as a Florida educator, using poetry and prose journal prompts to prey on and groom students into relationships. For her, the plaintiff said each incident occurred in the classroom.
The teacher's arrest for the offenses against this survivor happened eight years after another student reported sexual misconduct by the same teacher with multiple students at a different high school in the same school district. Additionally, a school resource officer reportedly saw the teacher engaging with/leaning over students in a "very personal" and "intimate" fashion – but never reported the suspicious behavior, according to The Miami Herald.
After the earlier incidents, the teacher was moved to a different school, but not fired or even reported to authorities. According to the lawsuit, the school board and administrators failed to conduct an adequate, thorough, and reasonable investigations into prior reports of alleged abuse. Further, when the school did launch an investigation, it reportedly failed to protect female students in his classes as he continued to teach. Jurors agreed, awarding the plaintiff survivor $3 million in prior damages and $3 million in future damages.
The details of this case are deeply disturbing, especially because they appear to be part of a bigger problem. In recent years, there have been numerous South Florida sexual abuse allegations against teachers – and school districts failing to protect students. Given that sexual abuse is a widely under-reported crime to begin with, the fact of so many high-profile cases is all the more troubling.
Among recent cases: Continue reading