Two recent Florida medical malpractice involving anesthesiologists have made national headlines, shining a spotlight on incidents involving these highly-trained medical professionals.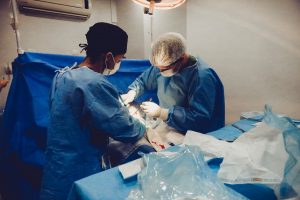 Physician anesthesiologists are responsible to evaluate, monitor, and supervise patient care during and after surgery. They are tasked with delivery anesthesia, which is medication that helps with care, pain management and critical care medicine. There's general anesthesia, where a patient is made to be completely unconscious. Then there's regional anesthesia, where only part of someone's body is anesthetized (such as in an epidural/spinal block). Lastly, there is local anesthesia, in which numbing medication is only applied to a small part of the body. Anesthesiology is not a field that leaves much room for error.
Anesthesia error can lead to serious, lifelong injuries or even deaths. Mistakes such as too much anesthesia, too little anesthesia, the wrong type of anesthesia, or failure to properly monitor a patient before, during, or after anesthesia is administered can be the basis for a South Florida medical malpractice claim that may hold the hospital, surgery center, anesthesiologist or other medical staffers accountable.
In one of the two recent Florida anesthesiology medical malpractice claims, the Florida Department of Health alleges a Miami anesthesiologist was negligent in caring for a patient in his late 50s. The agency says the patient wasn't properly ventilated after a heart surgery. The FDH filed an administrative complaint against the physician. The patient's death followed a surgery that was performed without complications. The problem, according to the Associated Press, was that the ventilation machine was disconnected from the circuit. It was reportedly the anesthesiologist's job to make sure the patient was ventilated properly during the procedure. The patient was not well-ventilated for nearly three minutes, causing his heart rate to slow dramatically, followed by cardiac arrest. He received CPR and was placed on a pump, but he was soon after diagnosed as brain dead.
In another alleged anesthesiology medical malpractice incident in Florida, a 46-year-old woman has reportedly been left permanently brain damaged and non-responsive following an outpatient hysterectomy in Vero Beach. According to a medical malpractice lawsuit against the hospital, employees failed to monitor her breathing and wake her following the operation. She now resides in a facility for people with traumatic brain injuries, with medical bills since 2014 piling up to $4 million. Her husband of more than two decades is now caring for their five children, while she is dependent on others to meet her every need. The family is seeking millions in compensation, with the anesthesiologist being among those named as a defendant as are two nurses accused of failing to begin CPR once they realized the patient wasn't breathing.
In cases where an anesthesiology error is suspected of causing a patient severe injury or illness, it's imperative to contact a West Palm Beach medical malpractice attorney as soon as possible. The statute of limitations on medical malpractice and wrongful death claims, per F.S. 95.11, is just two years. Our team has the resources to carefully analyze the facts of your case and determine whether the medical professionals involved breached the applicable standard of care while providing services to you or your loved one.
Contact the South Florida personal injury attorneys at Halberg & Fogg PLLC by calling toll-free at 1-877-425-2374. Serving West Palm Beach, Miami, Tampa, Orlando and Fort Myers/ Naples. There is no fee unless you win.
Additional Resources:
Florida accuses doctor of malpractice in patient's death, May 21, 2021, Associated Press
More Blog Entries:
No Financial Bias Exception to Dangerous Medical Device Warning Failure, Court Rules, May 5, 2021, West Palm Beach Medical Malpractice Lawyer Blog