Anyone who has ever sought the services of a South Florida personal injury lawyer – whether for a car accident, slip-and-fall, or medical malpractice – has likely seen or heard the phrase "free initial consultation" in attorney marketing materials. But what exactly is a personal injury lawyer free consultation? Is it really free? Are you agreeing to hire that attorney by booking this consult?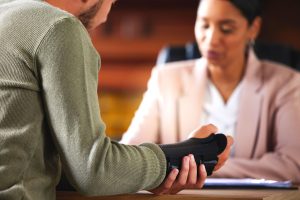 As our South Florida personal injury lawyers can explain, a free initial consultation is something like a first date – except neither party picks up the tab because there isn't one. (Initial consultations really are free.) But you can think of them as an opportunity to gather insight regarding the viability and potential value of your case, clarify your goals, get a sense of how the process will work, and determine whether the attorney you're meeting is someone with whom you can develop a rapport, trust, and general ease.
Here, we offer a deeper dive into what these sessions are – and are not – and how you can come best prepared.
What Are the Obligations in a Personal Injury Lawyer Free Consultation?
Just as there's no guarantee of a second date after the first, there's no obligation for you to hire an attorney with whom you meet for a free initial consultation. In fact, it's generally expected that you'll meet with more than one personal injury lawyer before deciding which one to hire. Arranging several consultations will also provide you with a more well-rounded view of the key points in your case and what you might expect.
But just as you have no obligation to hire the attorney, the attorney has no obligation to take your case. They may provide you with information, and then regrettably inform you they won't be taking your case. This usually happens if the attorney feels it's not a case they can win, either because it isn't strong enough or they don't have the depth of skill, experiences, or resources to take it on. Because Florida personal injury lawyers accept cases on a contingency fee basis, meaning they aren't paid unless their client wins, they are inclined to be selective.
Meeting with an attorney also doesn't mean you're obligated to file a lawsuit. In fact, many personal injury claims can be resolved through negotiation before it ever gets to the point of filing a lawsuit.
How Should I Prepare for This Consultation?
First, research "personal injury lawyer free consultation near me" or "personal injury lawyer free consultation West Palm Beach." You'll want to find an attorney whose featured practice area include the type of case you plan to file (i.e., medical malpractice, slip-and-fall, premises liability, car accident, boating accident, sexual assault civil case, etc.). You can ask them more about their specific experience and case results when you talk.
Prior to the meeting, it's a good idea to submit any relevant documents or evidence you have to the attorney so they can review it prior to the meeting. This allows for greater efficiency with the time you have 1:1 with the attorney.
We'll want to see any medical records you have, diagnoses you've been given, treatments you've undergone, details about what caused the injury, identities of all those involved, when/where the incident occurred, names and contact information of any witnesses (and information on what they saw), and a general rundown of how this whole thing has impacted your day-to-day life. If you've spoken with an insurance adjuster or accepted any insurance money (such as PIP, if you're in a crash), we'll want to review that as well.
What Exactly Happens During a South Florida Injury Lawyer Consultation?
When you make your appointment for a free initial consultation with an injury lawyer, the office staff will coordinate a date and time for the meeting – which can be in person, over-the-phone, or held via video conferencing application, like Zoom. In some cases, the attorney can make arrangements to come to you. You'll get all the specifics from the office staff.
We'll review the materials you sent prior to the meeting. At the meeting, we'll tell you what we think. We'll explain why we think you have a strong case – or not. If we think it's a stretch, we'll be frank with you. Because of the whole contingency fee arrangement, personal injury lawyers have no incentive to send you on a wild goose chase if your claim is shaky. We'll also give you a general sense of the timeline, process, and broad value estimate.
Remember: The attorney can't provide you with legal advice until you hire them. But they can offer you some general insight that can help you make an informed decision about your next step.
Some things to keep in mind:
Be honest. You only do a disservice to yourself if you withhold information from the lawyer. Keep in mind that while we cannot give you legal advice during the initial consultation, attorney-client confidentiality does still apply during these discussions.
Ask about deadlines. Florida recently halved deadlines for most personal injury cases – from 4 years to 2 years. And depending on the defendant/type of case, there may be certain notices you're required to send out even earlier than that. You'll want to discuss if the statute of limitations is going to be a problem if you try to proceed with your claim.
Ask about the attorney's experience. You want to know they've had success in cases similar to yours.
Ask about the potential challenges you'll face. Every case is different in terms of the challenges it's going to face, but they can include things like credibility issues (if your story has changed at all) to meeting the serious injury threshold to overcoming claims of comparative fault (shared blame on your part). Know upfront what the attorney sees as the biggest hurdles.
Ask about potential outcomes. We definitely want to know your ideal outcome, but we can also give you an idea of the range of outcomes you might expect if you decide to pursue your case. All this said, no attorney can guarantee you a particular outcome, even if they have confidence in the strength of your case.
Discuss communication expectations. One of the most common points of conflict between attorneys and clients is communication. Your attorney is expected to respond to reasonable requests within a reasonable time frame. That said: Lawyers inevitably get busy. Talk about communication frequency and methods.
If you have any additional questions, make sure you write those down in advance of the meeting so that you won't forget it.
To schedule your personal injury lawyer free consultation, contact South Florida personal injury attorneys at Halberg & Fogg PLLC by calling toll-free at 1-877-425-2374. Serving West Palm Beach, Miami, Tampa, Orlando and Fort Myers/ Naples. There is no fee unless you win.
Additional Resources:
Consumer Pamphlet: Attorneys' Fees, The Florida Bar
More Blog Entries:
Understanding Evidence Spoliation When Filing Palm Beach Injury Lawsuit, Sept. 30, 2023, South Florida Injury Lawyer Blog