Dealing with insurance companies can be a pain, as anyone who's ever been in a South Florida car accident knows. Lawmakers recognize it too. That's why there are legal protections in place to ensure fair play. Insurers are legally bound to act in good faith when handling claims. When they don't, courts can impose financial sanctions.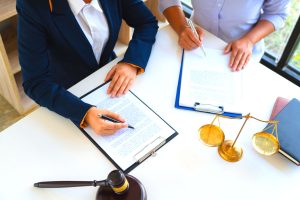 One example of bad faith insurance is when an auto insurer rejects a fair settlement offer in a pending lawsuit. As our West Palm Beach car accident attorneys can explain, if the case proceeds and the plaintiff wins a judgment totaling 25 percent or more than the settlement offer, the court can order the insurer to pay the plaintiff's attorney's fees.
Few things to note: Plaintiffs don't pay West Palm Beach car accident attorneys' fees upfront. These services are provided on a contingency fee basis, meaning we aren't paid unless or until you win. Our fee is derived as a percentage of the amount you win. But when a defendant is required to pay attorney's fees, it means the plaintiff keeps the entire damage award and the defendant covers our fees. Insurers would obviously rather avoid that outcome.
In a recent case dealing with this issue, Florida's 2nd District Court of Appeal held that an auto insurer's long-delayed payment of UM policy limits – after rejecting an earlier lower settlement offer by the plaintiff – amounted to a "confession of judgment" that can be used as grounds to justify an order for the insurer to pay the plaintiff's attorney fees.
In the case of Stiwich v. Progressive, a woman was involved in a crash with an uninsured driver in which she suffered injuries. She later died due to causes unrelated to the crash. However, personal injury claims don't generally die just because the plaintiff does. In this case, the personal representative of the decedent's estate assumed the position as plaintiff.
The claimant had an uninsured motorist (UM) policy with the defendant for a $10,000 limit. That meant that if she were to be hurt in a crash caused by the negligence of an uninsured driver (or in a hit-and-run), her own insurer would cover the difference, up to the policy limit. After the lawsuit was filed, plaintiff asked to settle for $8,000. The insurer never responded, and the settlement offer expired.
Plaintiff then filed a civil remedy notice with the state's Department of Financial Services, seeking to file a separate action for bad faith insurance against the insurer. (Such notice is a prerequisite of filing a bad faith insurance action.) F.S. 624.155(3)(c) gives insurers 60 days to correct the issue – either by paying the damages or correcting the circumstances that led to the bad faith claim. Here, after 30 days, the insurer responded by paying the $10,000 policy limit.
Afterward, the plaintiff  filed a motion in the still-pending UM case asking to be awarded attorneys' fees and costs. She cited the insurer's payout of the policy limit, characterizing it as an "order of confession of judgment/final judgment." And because the amount paid was more than 25 percent higher than her previous settlement offer, she wanted her attorney's fees covered.
The trial court denied the motion, siding with the insurer that technically no court judgment had been entered, as required under F.S. 768.79(1). Plaintiff appealed, arguing that while a confessed judgment isn't what's required by statute, it nonetheless is the equivalent of a final judgment in her favor.
The appellate court agreed with her, citing the 2000 Florida Supreme Court case of Ivey v. Allstate Ins. Co. In that matter, justices ruled that when an insurer pays the policy limit after a lawsuit has been filed but before the judgment is rendered, that payment constitutes as the functional equivalent of a confession of judgment or verdict in favor of the insured. That's true even when the payment is rendered to cure a civil remedy notice to avoid a bad faith insurance lawsuit, as was the case here.
When it comes down to it, if insurance companies act in good faith and treat people fairly, the prospect of a bad faith claim or a court order to pay plaintiff attorney fees becomes virtually non-existent. It's not as if such claims are easy as pie to win. They exist as remedies to even out the power imbalances that legislators and courts fully recognize exist between insurers and claimants.
Contact the South Florida personal injury attorneys at Halberg & Fogg PLLC by calling toll-free at 1-877-425-2374. Serving West Palm Beach, Miami, Tampa, Orlando and Fort Myers/ Naples. There is no fee unless you win.
Additional Resources:
Stiwich v. Progressive, Aug. 4, 2023, Fla. 2nd District Court of Appeal
More Blog Entries:
What's the Point of a Personal Injury Lawyer Free Consultation? Oct. 30, 2023, West Palm Beach Car Accident Attorneys' Blog