If you're in a South Florida motorcycle accident, you may have sustained substantial injuries and are wondering what to do next. It can be more perplexing if you're fairly sure you were at least partially at-fault for the crash.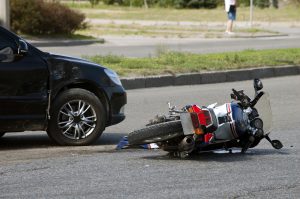 Two things to bear in mind:
Never voice your conclusions of fault to the other party or to any insurance representatives without first talking to an injury lawyer. Even if you strongly suspect you're to blame, there may be factors about which you're unaware/that were out of your control that skew your perception of events.
Even if you were partially at-fault for what happened, Florida law favors a system of fair compensation for which everyone pays their own share. This is called comparative fault, and it means that if you were 30 percent at-fault and the other driver was 70 percent, the other driver would be responsible to pay 70 percent of your damages. So if your total losses were $100,000, you'd be entitled to receive $70,000.
Keep in mind that the final word on fault and what percentage each party shares is not up to the investigating police officer nor necessarily the insurance adjuster. Disputes with regard to fault are settled either in negotiations with your attorney and the insurer(s) and/or by a mediator or judge.
A West Palm Beach motorcycle accident lawyer can carefully investigate your case and gather evidence that will allow proper apportioning of fault. We'll also work hard to protect your right to recover full and fair compensation.
Most motorcycle crashes – nearly 60 percent – involve more than one vehicle. In collisions involving motorcyclists and four-wheeled vehicles, it's almost always the motorcyclist and their passengers whose injuries are most severe. That's because motorcyclists are far more exposed on the road. There is a much higher probability that crashes will result in injuries to the thorax, abdominal area, head and extremities. Helmets can serve as excellent protection for head injuries (though they aren't required by Florida law) but they can't protect the rest of the body.
In addition to motorcyclists suffering much more severe injuries and fatalities, a study a few years ago found their medical costs on average were much higher too. The analysis, detailed by Reuters, looked at data on more than 26,000 motorcycle accident patients and 281,000 car accident patients. The rate of injury for motorcyclists was triple that of car accident victims. Motorcyclists were 10 times likelier to suffer severe injuries. Further, motorcyclists cost about twice as much in medical costs in the first two years post-accident.
In Florida, motorcyclists cannot purchase no-fault personal injury protection (PIP), as required by other drivers. Even if a motorcyclist already carries PIP on another vehicle, it won't cover a motorcycle accident. That means a motorcycle operator must pursue compensation from the other driver's insurance for medical bills, lost income, pain and suffering and damage to the motorcycle. They aren't required (as other motorists are) to meet any threshold or prove their severity of injuries the way occupants of other vehicles do under the state's no-fault laws. That said, it's a smart idea for motorcyclists to obtain uninsured motorist coverage, in case the crash involves another driver who doesn't carry liability insurance or doesn't carry enough to cover the full cost of damages.
The fact that you may have been partially at-fault (by speeding, failing to yield, etc.) is not going to help your injury claim. However, it's not the end of it either. You may be able to collect a significant portion of your damages for medical bills, lost wages, pain and suffering, and loss of life enjoyment by working with an experienced South Florida injury attorney.
Contact the South Florida personal injury attorneys at Halberg & Fogg PLLC by calling toll-free at 1-877-425-2374. Serving West Palm Beach, Miami, Tampa, Orlando and Fort Myers/ Naples. There is no fee unless you win.
Additional Resources:
Motorcycle crashes cause far more severe injuries than car accidents, Nov. 22, 2017, By Lisa Rapaport, Reuters Health
More Blog Entries:
How Serious Does My Injury Need to Be to File a Florida Injury Lawsuit? April 5, 2021, West Palm Beach Motorcycle Injury Lawyer Blog