We all know distracted driving is deadly, claiming more than 3,100 lives a year, according to the NHTSA. And yet, rideshare drivers have something of a built-in distraction with the need to multitask on the road. They rely on a driver app that must be checked constantly for customers, directions, mileage, and payments.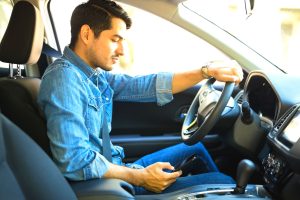 A precedential South Florida product liability lawsuit slated for an upcoming trial alleges a ridesharing app creates an unreasonable danger that puts the public at risk of injuries. Although the case stemmed from a South Florida car accident, it's filed as a product liability lawsuit on the basis of strict liability. In the legal world, a personal injury lawsuit alleging strict liability allows a defendant to be held legally responsible for the outcomes of their actions – regardless of whether the person was at-fault or negligent.
The upcoming Florida rideshare injury lawsuit, pending in the Palm Beach Circuit Court, accuses Lyft, a California company, and its Florida subsidiary, of creating/using an app is unreasonably dangerous and distracts drivers to the extent it causes crashes. In this particular case, the January 2019 crash on State Road A1A resulted in another driver suffering substantial and lasting brain injuries.  The victim was leaving work at a local resort when the Lyft driver allegedly struck her at an intersection. She spent more than a month in the hospital after the crash, and for a time after that, required 24-aid and attendant care. She also underwent extensive occupational therapy, physical therapy, and other specialty care.
Hertz is also named in the injury lawsuit, as a partnership between Lyft and Hertz allows rideshare drivers to rent Hertz rental cars for their rides.
The original complaint notes that drivers are required to constantly monitor their apps for financial gain (obtaining rides that generate revenue). In addition to a claim of strict liability defective design, plaintiffs allege direct negligence in hiring an independent contractor.
Are Florida Rideshare Drivers Inherently More Distracted?