We all know distracted driving is deadly, claiming more than 3,100 lives a year, according to the NHTSA. And yet, rideshare drivers have something of a built-in distraction with the need to multitask on the road. They rely on a driver app that must be checked constantly for customers, directions, mileage, and payments.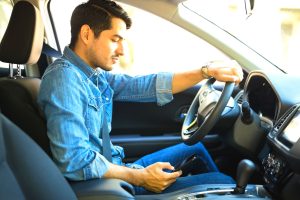 A precedential South Florida product liability lawsuit slated for an upcoming trial alleges a ridesharing app creates an unreasonable danger that puts the public at risk of injuries. Although the case stemmed from a South Florida car accident, it's filed as a product liability lawsuit on the basis of strict liability. In the legal world, a personal injury lawsuit alleging strict liability allows a defendant to be held legally responsible for the outcomes of their actions – regardless of whether the person was at-fault or negligent.
The upcoming Florida rideshare injury lawsuit, pending in the Palm Beach Circuit Court, accuses Lyft, a California company, and its Florida subsidiary, of creating/using an app is unreasonably dangerous and distracts drivers to the extent it causes crashes. In this particular case, the January 2019 crash on State Road A1A resulted in another driver suffering substantial and lasting brain injuries.  The victim was leaving work at a local resort when the Lyft driver allegedly struck her at an intersection. She spent more than a month in the hospital after the crash, and for a time after that, required 24-aid and attendant care. She also underwent extensive occupational therapy, physical therapy, and other specialty care.
Hertz is also named in the injury lawsuit, as a partnership between Lyft and Hertz allows rideshare drivers to rent Hertz rental cars for their rides.
The original complaint notes that drivers are required to constantly monitor their apps for financial gain (obtaining rides that generate revenue). In addition to a claim of strict liability defective design, plaintiffs allege direct negligence in hiring an independent contractor.
Are Florida Rideshare Drivers Inherently More Distracted?
Although rideshare services are credited in part to the drop in drunk driving crashes, there's a fair amount of research – on top of anecdotal evidence – tending to show rideshare companies like Lyft and Uber put their passengers and other motorists in danger due to being distracted behind the wheel.
The apps in question require drivers to constantly monitor their electronic devices and respond quickly to requests for service. Anytime a driver must divert his or her attention from the road, it puts themselves and everyone sharing the road with them in danger.
This assertion seems to be supported by a number of recent studies. For example, a Traffic Safety & Injury Control analysis by researchers at UC Berkeley looked at national driving behaviors and actions – with about one-third of those being rideshare drivers for either Lyft or Uber. The rest were drivers who spend a significant amount of time driving, but without pay. Some of their findings were that Uber & Lyft drivers:
Overall had less driving experience than other drivers.
Drove a lot more daily and weekly.
Used navigation and other apps more frequently.
Were more distracted by external events in traffic.
Encounter more "near misses" and "conflicts" in traffic.
Let's say it takes two seconds for a rideshare driver to check the location of a possible pickup. If he/she is traveling 35 miles-per-hour, that's 103 feet of distance during which the driver is not looking at the road. Two seconds doesn't sound like a lot, but that's roughly seven car lengths. It's not a stretch to think the driver's attention may actually be consumed for longer; drivers have a full five seconds before they must look at where the requesting party is, where they're going, and whether they want to accept.
If you are injured in a South Florida car accident with a rideshare driver, our dedicated West Palm Beach injury lawyers can help you assess your legal options and determine the best strategy moving forward.
Contact the South Florida personal injury attorneys at Halberg & Fogg PLLC by calling toll-free at 1-877-425-2374. Serving West Palm Beach, Miami, Tampa, Orlando and Fort Myers/ Naples. There is no fee unless you win.
Additional Resources:
Uber driver's two-second gap horrifies some Roadshow readers, May 3, 2021, By Gary Richards, Mercury News
More Blog Entries:
Sex Assault Lawsuits Allege Rideshares Like Lyft, Uber Fail to Protect Passengers and Drivers, Sept. 15, 2022, West Palm Beach Injury Lawyer Blog