A surgeon and the hospital where he worked are facing hundreds of Florida medical malpractice lawsuits alleging life-altering injuries to patients, who allege the doctor's 2020 retirement due to a progressive neurological disorder came about four years too late.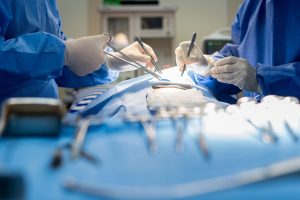 By then, complaints of the doctor's shaking hands, slurring speech, unsteady gait, mood swings, involuntary body twitches, and impaired judgment were well-established – both by patients and the doctor's colleagues. But they were first documented back in 2016. Plaintiffs in the 348 Florida medical malpractice lawsuits filed so far allege the hospital should have intervened much sooner.
As West Palm Beach medical malpractice attorneys, we recognize that in many of these cases, liability often goes beyond the health care provider themselves.
Plaintiffs say the hospital not only should have known about the issue, but had actual knowledge. Specifically, numerous doctors, nurses, and patients specifically told the hospital – on numerous occasions – that they were concerned about the doctor's condition and seeming impairment. In one instance, he was reportedly seen having difficulty keeping his eyes open during a surgery. In other instances, colleagues were allegedly having to prompt him during surgeries about what needed to be done. Instead of intervening, the hospital allegedly allowed the doctor to continue to become recredentialed and practice, but to schedule high-volume, high-risk surgeries – raking in millions in profit for the hospital.
The doctor resigned from the hospital voluntarily in 2020, shortly after being diagnosed with progressive supranuclear palsy, a rare brain condition adversely impacting neurological function and motor coordination. A year later, he forfeited his Florida medical license amid an investigation by the state board. We don't know what official complaint specifically led to the Florida Board of Medicine's intervention, but we know they have been piling up since then.
In one case, a woman in her 60s who underwent a total knee replacement suffered significant and unexpected injuries after the surgery. She continued to fall and suffer issues. She returned to the same surgeon, who again operated on her. Health problems persisted. Finally seeking a second opinion, it was determined her surgeries left her in constant pain and with an unintentionally elongated lower extremity. Ultimately, she would have to undergo five surgeries to correct the issue.
In another case, a plaintiff in a wrongful death case alleges his wife died in 2018 while undergoing surgery with this doctor. Specifically, she was undergoing hip surgery when, her husband says, the surgeon made an error that resulted in the fracture of her femur that caused her to go into cardiopulmonary arrest. She ultimately died. The doctor went on to perform several more surgeries that same day. In one of those, a patient reportedly ended up with a hardware in their leg that was implanted in the wrong direction. (This was a complaint that he received several times over the last few years.)
Eighteen days earlier, the family of another patient reported to the hospital's chief medical officer that they observed the surgeon slurring his speech, shaking uncontrollably, and had an angry outburst at nursing staff. The CMO reportedly did not intervene.
Among the conditions patients reportedly suffered as a result of his alleged deficits in care:
Nerve damage
Dislocations
Fractures
Ruptured and severed tendons
Infections
Numerous surgical complications
Patient records also reportedly reflected inconsistent procedures. For instance, the surgeon allegedly recorded hip replacements in a patient's chart when in fact, she'd undergone a knee replacement.
So far, 10 complaints have resulted in $6 million in compensation for families.
Although these cases represent an egregious example of issues going far too long unaddressed, it's not uncommon for health care facilities to be reticent to admit their failure to protect patients from negligent medical care. If you or a loved one believe you have been affected by South Florida medical malpractice, our experienced personal injury and wrongful death lawyers can offer insight into the viability and value of a possible legal case.
Contact the South Florida personal injury attorneys at Halberg & Fogg PLLC by calling toll-free at 1-877-425-2374. Serving West Palm Beach, Miami, Tampa, Orlando and Fort Myers/ Naples. There is no fee unless you win.
Additional Resources:
St. Vincent's hospital, surgeon facing hundreds of lawsuits, allegations of ignoring complaints, Aug. 1, 2022, By Katherine Lewin, Florida Times-Union
More Blog Entries:
Who is a Qualified Expert in a Florida Medical Malpractice Lawsuit? Florida Supreme Court to Decide., July 16, 2022, Palm Beach Medical Malpractice Attorney Blog