Holidays are often cause for gathering, good food – and spirits. Although we typically think of New Year's Eve as the most boozy, it's Thanksgiving weekend that has the worst track record for drunk driving crashes and deaths.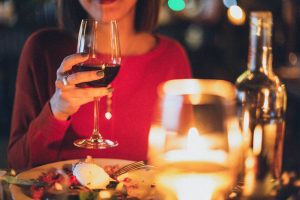 More than 800 people died on U.S. roads over the Thanksgiving holiday weekend (Wednesday evening to Sunday evening surrounding the fourth Thursday in November) in a recent five-year period. That's according to the National Safety Council and the National Highway Traffic Safety Administration (NHTSA). Even more were seriously injured in drunk driving crashes. Forty-five percent of drivers involved in fatal drunk driving crashes over the holiday weekend were between the ages of 21 and 34.
Some have taken to calling these alcohol- and marijuana-laden holiday gatherings "Blackout Wednesday" and "Danksgiving.". Upserve reports bar sales for beer increases 270 percent for  for beer 114 percent for liquor over the Thanksgiving holiday.
The reckless decision to drive while under the influence of drugs or alcohol is more likely when a person's judgment is impaired. More than half of all drunk drivers surveyed by Scram Systems (an alcohol monitoring system sometimes used by courts, probation offices and treatment centers) reported consuming more alcohol over the holidays than at other times in the year.
Will it Be as Bad This Year? 
On the flip side, travel in general is likely to be down at least somewhat this year compared to Thanksgiving holidays of the past. It's also plausible that more people will forego spending time in bars and restaurants, given the current CDC guidelines.
Nevertheless, our West Palm Beach injury lawyers urge all drivers to be cautious and arrange alternative transportation if you plan to drink alcohol or consume cannabis. This is especially important because services like Tow to Go, provided by AAA, have been suspended out of an abundance of caution during the pandemic. This was a program that provided free, confidential, safe transportation and vehicle towing over the holidays to members and non-members within a 10-mile radius, with the goal of reducing the number of impaired drivers on the roads during these high-traffic times.
If You Are Injured in a West Palm Beach Drunk Driving Accident
In any Florida car accident case, a central element to establishing liability is negligence. That is, did the defendant's breach of a duty of reasonable care cause your injuries? This is often easier to establish in drunk driving accident cases because impaired driving is clearly against the law, and the poor judgment of these motorists is well-established. In fact, defendants in these cases often flat-out admit liability (sometimes in an effort to make the question of their sobriety irrelevant and prejudicial, as noted in the 2013 Fla. 2d DCA decision in Swanson v. Robles).
In that case, the central issue being negotiated/litigated is how much you should receive in damages. This typically requires a careful review of your medical records and bills and evidence of how the crash has affected your daily life and relationships. It may also require expert witness testimony to establish the extent of your future medical needs and expenses.
In some DUI cases, we may have the ability to pursue a third-party liability claim against the bar, establishment or social host who served alcohol to the individual. This allowed under Florida's dram shop law, but only in cases where the driver was under the age of 21 OR was known by the server to be habitually addicted to alcohol. The latter can be tough to prove, though the Florida Supreme Court did find in the 1991 case of Ellis v. N.G.N. of Tampa Inc. that proof a bar served a person substantial amounts of alcohol on numerous occasions could be used to establish sufficient knowledge that would violate F.S. 768.125.
We can also pursue damages against the owner of the car driven in the impaired driving crash, either on the basis of negligent entrustment OR the principle of dangerous instrumentality. Similarly, if the impaired driver was acting in the course and scope of employment at the time of the crash, the employer may be held liable under the doctrine of respondeat superior.
If you are injured in a Thanksgiving drunk driving accident in South Florida, our West Palm Beach car accident lawyers are available to answer your questions and help you pursue justice.
Contact the South Florida personal injury attorneys at Halberg & Fogg PLLC by calling toll-free at 1-877-425-2374. Serving West Palm Beach, Miami, Tampa, Orlando and Fort Myers/ Naples. There is no fee unless you win.
Additional Resources:
PASS OUT FROM TURKEY – NOT ALCOHOL – THIS THANKSGIVING WEEKEND, National Highway Traffic Safety Administration
More Blog Entries:
Florida Distracted Driving Awareness Critical to Driving Down Crash Rate, Oct. 10, 2020, West Palm Beach Car Accident Lawyers