Driving while impaired carries a definite stigma. But driving distracted often still does not – even though we know it kills hundreds of people in Florida every year. October is National Distracted Driving Awareness Month, an effort that aims to change that.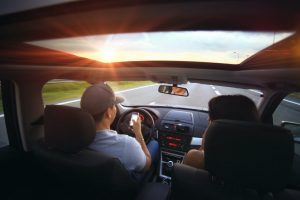 Drivers who are distracted are a threat not only to themselves but everyone else on the road. Looking away from the road for even just a few seconds can double your risk of a crash.
As West Palm Beach injury lawyers, we understand that distracted and impaired drivers are actually quite similar to each other. like those who are impaired by substances, drivers whose attention is momentarily diverted have significantly reduced reaction times. They may swerve about the road. They may not realize they're speeding or approaching an intersection or stopped traffic.
According to the Florida Department of Highway Safety and Motor Vehicles, distracted driving was verified in 213 fatal crashes in 2018 resulting in 231 deaths. Among the riskiest distractions:
Use of a cell phone (texting in particular).
In-vehicle technology (including GPS).
Passengers in the vehicle (particularly hazardous with younger drivers with passengers of the same peer groups).
These are just some of the distractions commonly cited in crash reports, but literally anything that takes your attention away from the critical task of driving is risky. That can mean eating, choosing the next podcast or adjusting the GPS. It's likely that distraction is a factor in far more crashes than is officially documented, though we do know about a quarter of all documented distracted driving collisions involved the use of a smartphone.
Nationally, nearly 3,000 people die and 400,000 are injured in distracted driving crashes. As our injury lawyers know all too well, all it takes is a few seconds. In fact, just 5 seconds of reading a text message while moving at 55 mph is like driving the length of a football field blind.
Florida Distracted Driving Law
F.S. 316.305, Florida's Wireless Communications While Driving Law, took effect in July 2019. It prohibits drivers from manually typing or entering numerous numbers, letters or symbols into a wireless communications device while operating a motor vehicle. If you're driving through a school or active work zone or school crossing, you are not allowed to be holding a phone in your hand.
Although Florida has had a texting-and-driving law for several years, it wasn't until last year that it became a primary, rather than secondary, offense, meaning police officers observing the behavior could use it as grounds to initiate a traffic stop.
But violations are still something of a minor slap on the wrist, especially consider the destruction they can cause. A first offense is punishable by a fine of $30 plus court fees. A second offense is $60 plus fees plus three points on one's driver's license.
AAA and other driver safety advocacy groups support more restrictive distracted driving laws in Florida and throughout the country.
Recovering Damages After a Distracted Driving Crash
Distracted driving can upend your whole life. A driver who is not paying attention to the road is breaching the duty that every motorist has to use due care while operating a vehicle. If you're injured in a crash with a driver who was distracted – whether you were a passenger or another motorist or pedestrian or bicyclist – you may have grounds to pursue a claim for damages to cover your medical expenses, lost wages, compensation for pain and suffering and more.
Florida is a no-fault state when it comes to auto insurance, meaning if you have personal injury protection coverage (PIP), your own insurer will pay up to $10,000, even if you weren't driving at the time of the crash. But if that doesn't cover the extent of your damages (as it often does not in distracted driving cases), you can step outside that no-fault system and file a claim for more money from the at-fault driver's insurer. If the at-fault, distracted driver does not have enough insurance to adequately cover your damages, you then have the option of filing for underinsured motorist (UIM) coverage from your own insurer.
Auto insurance companies are not keen to facilitate payouts, no matter how significant your injuries. This is why it is important to consult with an experienced car accident attorney.
Contact the South Florida car accident attorneys at Halberg & Fogg PLLC by calling toll-free at 1-877-425-2374. Serving West Palm Beach, Miami, Tampa, Orlando and Fort Myers/ Naples. There is no fee unless you win.
Additional Resources:
Put It Down: Focus On Driving, Florida Department of Highway Safety and Motor Vehicles