Driving while impaired carries a definite stigma. But driving distracted often still does not – even though we know it kills hundreds of people in Florida every year. October is National Distracted Driving Awareness Month, an effort that aims to change that.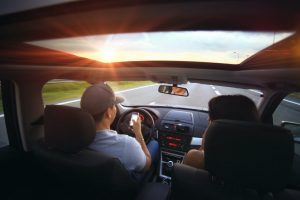 Drivers who are distracted are a threat not only to themselves but everyone else on the road. Looking away from the road for even just a few seconds can double your risk of a crash.
As West Palm Beach injury lawyers, we understand that distracted and impaired drivers are actually quite similar to each other. like those who are impaired by substances, drivers whose attention is momentarily diverted have significantly reduced reaction times. They may swerve about the road. They may not realize they're speeding or approaching an intersection or stopped traffic.
According to the Florida Department of Highway Safety and Motor Vehicles, distracted driving was verified in 213 fatal crashes in 2018 resulting in 231 deaths. Among the riskiest distractions:
Use of a cell phone (texting in particular).
In-vehicle technology (including GPS).
Passengers in the vehicle (particularly hazardous with younger drivers with passengers of the same peer groups).