Lifting patients is a common – and extremely dangerous – duty of nurses in all different settings. Those in hospitals, nursing homes, urgent care and surgery centers are typically required to follow certain protocol when they do lift to reduce the chances of. Unfortunately sometimes due to short-staffing and lack of training, those safe-lifting protocols aren't followed.
The question recently before Florida's Fourth District Court of Appeal was whether a lawsuit centering on injury resulting when a nurse dropped a patient she was lifting could be categorized as ordinary negligence or if it fell under the umbrella of medical malpractice.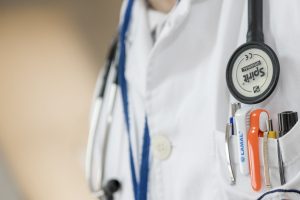 Why would this matter? Because Florida medical malpractice lawsuits are a whole lot tougher. Per Florida statute section 766.106., plaintiffs must meet a higher proof burden (deviation from the applicable standard of care – proven only with expert witness testimony – versus the mere absence of reasonable care where one had a duty, as is the case for ordinary negligence).
Because of the additional requirements for medical malpractice cases, it's generally in the plaintiff's best interest to file a claim as one of ordinary negligence if that is a possibility. And the truth is, not all injuries that occur in a hospital are medical malpractice, but the lines aren't always obvious.
Nurse Allegedly Answered Phone as She Lifted Patient
In the 4th DCA case, a divided court ruled 2-1 that injuries allegedly caused by a nurse who dropped a patient were medical malpractice, and not general negligence.
The incident occurred at a Broward County hospital, and defendants argued the case should be weighed under the medical malpractice standard, requiring plaintiff to comply with more stringent standards.
According to plaintiff's complaint, the claim was one of ordinary negligence due to the fact the nurse answered her phone while assisting him when she should have known he was a fall risk. As a result, plaintiff sustained broken bones and torn joints.
The action, plaintiff said, didn't involve the nurse's use of professional judgment and therefore should be weighed under the ordinary negligence standard. The trial court agreed, but the appellate court reversed and remanded to the lower court, where it's expected defendants will file a motion to dismiss.
In reaching its conclusion, the 4th DCA looked to previous cases  – one wherein an aide reportedly left a patient in the emergency room unattended with no guardrail on the bed and another where a worker in a hospital dropped a patient from a gurney. The court had previously determined these fell under the medical malpractice standard – not medical negligence.
Justices indicated that while such incidents do involve the use of common sense – which might be indicative of ordinary negligence – they also depend on use of the applicable professional nursing care standards outlined for moving and lifting patients.
The dissenting justice stated this was plainly an ordinary negligence claim because it didn't depend on any professional skill or judgment. The fact that the nurse answered the phone while attempting to lift another person was a simple deviation of what any reasonable person would do. No expert medical testimony would be required to prove this. She relied on a Florida Supreme Court ruling from last year which held the fact of an injury at a hospital doesn't automatically mean the claim sounds in medical malpractice.
Your Broward County medical malpractice attorney should carefully examine your claim to determine the best way to proceed.
Contact the South Florida personal injury attorneys at Halberg & Fogg PLLC by calling toll-free at 1-877-425-2374. Serving West Palm Beach, Miami, Tampa, Orlando and Fort Myers/ Naples. There is no fee unless you win.
Additional Resources:
Nurse Drops Patient: Court Weighs Med-Mal Over Ordinary Negligence, Aug. 21, 2019, By Raychel Lean, Law.com