Good Samaritan laws have been enacted throughout the country with the initial intention of protecting medical personnel from legal liability for rendering aid to someone in a medical emergency outside a traditional hospital setting. Here in Florida, F.S. 768.13 protects not only health care providers and those licensed to practice medicine but any person from liability when they gratuitously and in good faith rendered emergency medical care or treatment either in direct response to an emergency situation or arising out of a declared public health emergency.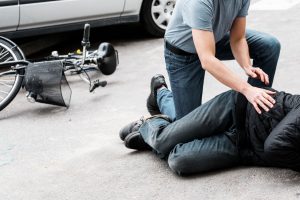 While a health care professional's code of ethics might compel them to offer medical assistance in an emergency situation, the state's Good Samaritan law does not require anyone to help others in an emergency situation. However if they choose to do so, they must exercise reasonable care. The law will impose liability when someone's failure to exercise reasonable care exacerbates the risk of injury to another person. It doesn't apply in cases where the victim rejects help or when the volunteer is somehow compensated for their help.
But what happens when the Good Samaritan is the one injured?
As South Florida car accident lawyers, we've come across this scenario more than once. Recently in Riverview, Florida, a Good Samaritan in his 20s was killed while assisting others just after a multiple vehicle crash on I-75 just before 3 a.m. Local news outlets reported a 19-year-old in a Toyota swerved out of his lane, striking the back of a semi-truck before overturning in the outside lane of the highway. The semi truck driver, who was not hurt, stopped and pulled over on the shoulder to assist. The driver of a third vehicle then slowed down to pull over onto the shoulder when a fourth vehicle failed to slow down and rear-ended the third vehicle. Then the Good Samaritan approached and pulled over to help the other motorists. Just then, a semi truck carrying plywood approached, struck the first vehicle that was turned over on its side, then the back of the next car which was shoved into the next car. The Good Samaritan was struck by that third vehicle. The semi truck pulling the plywood crashed into a guardrail, where the load separated and fell into a ravine. The Good Samaritan was the only one killed.
This case illustrates some of the risks that Good Samaritans take on in their efforts to help others. But potential risk does not mean the danger was inherent or that others can't be held legally responsible for it.
In the event a Good Samaritan is injured in the course of their helping, they may have grounds themselves to pursue civil claims against at-fault parties. That could include the person the Good Samaritan had initially stopped to help. It could also include any other negligent party. In a multi-vehicle car accident, questions of fault can be complicated. An experienced personal injury lawyer can help those hurt determine which parties bear legal responsibility, how much compensation may be available, and which legal avenues are most effective for securing fair financial damages.
If you are injured in a South Florida car accident while trying to help someone else, our dedicated West Palm Beach injury lawyers will help you examine all your legal options.
Contact the South Florida personal injury attorneys at Halberg & Fogg PLLC by calling toll-free at 1-877-425-2374. Serving West Palm Beach, Miami, Tampa, Orlando and Fort Myers/ Naples. There is no fee unless you win.
Additional Resources:
F.S. 768.13, Florida's Good Samaritan Law
More Blog Entries:
Explaining the Alcohol Defense in Florida Injury Lawsuits, Feb. 23, 2022, West Palm Beach Car Accident Lawyer Blog