A product liability mass tort litigation is rapidly snowballing, alleging a government contractor distributed defective earplugs to active duty combat soldiers and those in training, resulting in profound and lasting hearing loss.
Our South Florida product liability attorneys have learned hundreds of veterans from across the U.S. (nearly 650 in all thusfar), are suing 3M Co., asserting they suffered substantial degrees of damage to their functional hearing because the earplugs didn't provide the protection the company promised.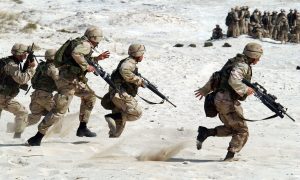 The products in question were touted as combat-grade earplugs, but failed to protect their  inner ear organs from permanent damage.
Veterans with pending claims have suffered either partial or total hearing loss, many also with something called tinnitus, which is the perception of constant or near-constant "ringing" or "buzzing" in one's ears. (Tinnitus isn't a condition in and of itself, but it's usually associated with hearing loss.
Bloomberg Law reports both sides – plaintiffs and defense – were lobbying to have the multi-district litigation centralized in a Missouri federal court, as that's the state out of which defendant company is based. However, the judicial panel entrusted to make the decision instead chose the U.S. District Court for the Northern District of Florida.
What is a Multi-District Litigation in Defective Product Cases?
For those who may be unfamiliar, our product liability attorneys in West Palm Beach can explain that MDL actions are a mass of individual personal injury and/or wrongful death claims, usually against the same or similar defendant(s) for the same or similar purposes. These cases generally follow the same basic fact pattern, and would need to meet the same general proof burden in order to succeed. Product defect liability cases are often especially complex, so trying each claim one-by-one could take literal lifetimes.
An MDL  offers a solution. It allows pretrial issues relevant to all those pending cases to be decided for everyone at once.  Attorneys from both sides choose then most representative "bellwether" cases. Those closely-watched cases typically determine how most others will be settled from there.
In the earplug cases,
Some examples of prominent bellwether cases in recent years include product liability lawsuits against big tobacco companies and asbestos product manufacturers.
Former Soldiers: Combat Earplugs Faltered in Weapons Training, War
The earplugs in question were dual-ended (meaning they were advertised as containing protective material on both ends. This was to ensure that sound waves, blasted from rockets, bombs, tanks, helicopters and heavy firepower – either in active combat or during weapons training – didn't impact their hearing.
But the product failed to live up to its express promise, the former troops say in the case of In re 3M Combat Arms Earplug Prods. Liab. Litig.,.
Soldiers first started filing these claims individually a few years ago. Then several proposed class action litigation lawsuits were formed. Those haven't at this juncture obtained formal approval to proceed as classes. The multi-district litigation judge hasn't yet decided whether to carve a separate path for those class action lawsuits or require they proceed through the MDL.
The judge in this case is herself a former military member, though the earplug issue arose more recently, after she'd retired from service.
Defendant company has – and continues – to contract with the federal government to provide military protective gear, the earplugs being just one of those. An attorney for the firm denied the earplugs were defective.
Not all product liability cases wind up in a multi-district litigation court, but they do tend to be a bit more complex than your average car accident/negligence claim. Trust South Florida injury attorneys with proven product liability experience.
Contact the South Florida personal injury attorneys at Halberg & Fogg PLLC by calling toll-free at 1-877-425-2374. Serving West Palm Beach, Miami, Tampa, Orlando and Fort Myers/ Naples. There is no fee unless you win.
Additional Resources:
3M to Face Hundreds of Veteran Hearing Loss Suits in Florida (1), April 4, 2019, Bloomberg Law
More Blog Entries:
479,000 Infant Onesies Recalled Due To Choking Hazard, Aug. 24, 2015, Miami Product Liability Lawyer Blog