Americans have been driving less in recent months, and some auto insurance companies recently announced they'll be extending financial breaks to policyholders through June. That may help more drivers hang onto their policies, but many have already had their coverage either canceled or reduced. Even before the Florida unemployment rate topped 13 percent, the Sunshine State had the highest percentage of uninsured drivers at nearly 27 percent. If you're in a Florida auto accident with an uninsured driver or an underinsured driver, it's important to understand your rights as well as the means by which you can still be compensated.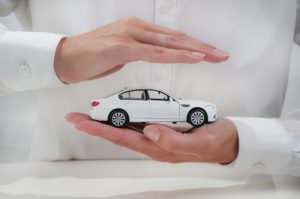 Florida Law Requires Auto Insurance
To legally drive a vehicle in Florida, you must have auto insurance. Motorists who don't carry the required minimum will be stuck paying for their own damages, and may even face criminal consequences. The state can also revoke or suspend someone's license if they fail to carry the required amount.
Florida insurance law requires any vehicle with a current Florida registration to:
Have a minimum of $10,000 in personal injury protection (PIP) and a minimum of $10,000 in property damage liability. Under Florida's no-fault auto insurance law, PIP coverage pays your own medical bills and a portion of your lost wages no matter who was at-fault. Taxis are required to carry bodily injury liability of $125,000 per person and $250,000 per crash as well as $50,000 per property damage liability.
Have continuous coverage, even if the vehicle is inoperable or isn't being driven. (Your tag and license plate has to be surrendered before you cancel your insurance.)
Purchase the policy from a Florida-licensed insurer.
It should be noted that Florida law does not require drivers to carry bodily injury liability (BIL) coverage, which pays for injuries you cause to someone else. Neither does it require uninsured/underinsured motorist (UM/UIM) coverage, which covers your injuries if the crash was caused by a driver who fled the scene or didn't have auto insurance or didn't have enough to cover your damages. However, if a driver doesn't have BIL, the Florida Financial Responsibility Law requires them to personally pay at least $10,000 per person and $20,000 per accident for any accident that results in bodily injury. A person's UM/UIM coverage can't be higher than their BIL coverage.
Collecting Compensation After a Crash With a Driver Who Has No Car Insurance
Because Florida is a no-fault auto insurance state, your first means of compensation is going to be PIP. You can only step outside of that no-fault system and demand compensation from the at-fault driver if you meet the serious injury threshold, as identified in F.S. 627.737. If your injuries meet that criteria, you'll still have to prove the other driver was negligent (breached their legal duty to be a safe driver, and in turn caused your injuries). You may also be required to prove you didn't share the blame for the crash, which can proportionately reduce the amount to which you're entitled under Florida's comparative fault law.
But is it worth all that if the driver doesn't have auto insurance? It can be if:
The driver has personal assets that can be leveraged for payment. (Payment schedules can be negotiated so that the defendant isn't placed in a position of financial hardship.)
You have UM/UIM coverage.
UM/UIM coverage is paid for by your own insurer – but you still have to prove the other driver was negligent and that this was the cause of all the injuries for which you are seeking compensation. But auto insurers don't often make it easy – even if you're a longtime, faithful customer. Having an experienced West Palm Beach car accident attorney to help you negotiate a fair settlement can be a game-changer.
Contact the South Florida car accident attorneys at Halberg & Fogg PLLC by calling toll-free at 1-877-425-2374. Serving West Palm Beach, Miami, Tampa, Orlando and Fort Myers/ Naples. There is no fee unless you win.
Additional Resources:
Facts + Statistics: Uninsured motorists, Insurance Information Institute
More Blog Entries:
Dealing With Insurance Companies After a South Florida Car Accident, Feb. 20, 2020, West Palm Beach Car Accident Attorneys Blog