Online shopping has soared in recent months. Supermarket News reporting online grocery sales rose 20 percent last yer and are poised to spike 40 percent this year. CNBC reports digital sales of traditional retailers like Target and Best Buy are up more than 250 percent, while Amazon delivery sales are up 25 percent in the first quarter. But who is liable if one of the growing number of delivery vehicles is involved in a Florida car accident?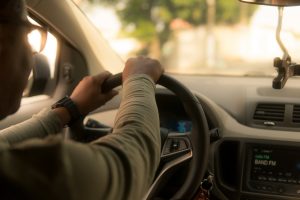 The answer depends on the company for whom the driver is delivering.
Every driver on the road in Florida by law must have valid auto insurance. Companies will generally provide employee drivers with commercial auto insurance, which would cover crashes that occur in the course and scope of employment.
As our West Palm Beach car accident lawyers can explain, many delivery service drivers are considered independent contractors rather than employees. That means it may be incumbent on the driver's own auto insurer to cover damages for grocery delivery accidents. Some insurers have denied coverage because insured's failed to purchase any add-ons for business use of their vehicle. Auto insurance companies will conduct thorough research on accident claims before they pay. If the driver was using the vehicle for business purposes at the time of the crash, the insurer will undoubtedly find out about it. Claims can be denied if the at-fault driver did not have appropriate insurance.
Florida Amazon Delivery Accidents
Historically, Amazon relied on third-party delivery firms (including UPS, USPS and third-party couriers) to ensure rapid turnaround on its deliveries – particularly for costly "last mile" deliveries from warehouse to customer. Since 2015, the company has been offering a program called Amazon Flex that provided insurance coverage to people who use their own vehicles to deliver packages as independent contractors. In 2018, it began hiring its own drivers as seasonal employees to help deliver packages.
Amazon Flex drivers are insured for liability, contingent comprehensive/collision and uninsured/underinsured motorists. Coverage goes up to $1 million per incident, covering crashes that are deemed to be the fault of the Amazon driver. This includes property damage and bodily injury to third parties. Further, this coverage only applies if the driver is picking up, delivering or returning packages at the time of the crash. Collisions that occur off-the-clock will be covered by the driver's personal insurance coverage, which more than likely has a much lower ceiling.
Florida Instacart Delivery Accidents
Personal shoppers/drivers for Instacart's grocery delivery service are considered independent contractors. The company does not extend an excess auto insurance plan, but it does require contractors to have their own insurance, plus a commercial policy. One problem that's been uncovered with this is an alleged lack of verification of this on the part of Instacart. If a driver only carries personal insurance, they aren't likely to be covered for crashes that occur when they use their personal vehicle for business user.
Depending on the circumstances, you can fight the insurer's denial of coverage or you can take legal action against the driver personally, assuming they have the personal assets to make such action worthwhile.
Uninsured/Underinsured Motorist Coverage
The fact that some delivery drivers aren't properly insured is a good reason to make sure you have adequate uninsured/underinsured motorist coverage. Florida is a no-fault car insurance state, which means you can receive up to $10,000 in personal injury protection (PIP) coverage from your own insurer regardless of who was at-fault. However, if you were seriously injured and the other driver was at-fault but does not have adequate insurance to cover your damages, you can file a claim for UM/UIM coverage from your own insurer. This coverage is not required in Florida, but does come standard with most auto insurance policies.
It's important if you are involved in a Florida Amazon or Instacart delivery accident to contact an experienced injury law firm that will work to quickly investigate and take the appropriate steps to file a claim and fight for full and fair compensation.
Contact the South Florida personal injury attorneys at Halberg & Fogg PLLC by calling toll-free at 1-877-425-2374. Serving West Palm Beach, Miami, Tampa, Orlando and Fort Myers/ Naples. There is no fee unless you win.
Additional Resources:
Online grocery sales to grow 40% in 2020, May 11, 2020, By Russell Redman, Supermarket News