Vaping has been advertised by manufacturers as a safe alternative to smoking. But there is growing evidence that the devices (also known as e-cigarettes) are not so safe after all. Vaporizers have been linked to a spate of deadly acute respiratory failure illnesses as well as serious burn injuries from explosions. Some 34 lung injury deaths and 1,600 illnesses – from Florida to California – this year are being blamed on vape usage, and more than 2,000 vape pen explosions from 2015 to 2017 resulting in burn injuries.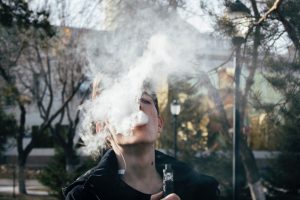 Those injured and survivors of those have died have begun filing the first of what promises to be a flood of Florida product liability lawsuits against vape pen manufacturers over these incidents.
Our West Palm Beach product liability lawyers have read through a number of these accounts – and they are harrowing.
Vape Injuries Likened to Those of Industrial Accidents, Chemical Weapons and High-Speed Car Accidents
In one case out of Florida, a mother-of-three and CBD oil vape user suffered multiple organ failure and was forced to undergo a double leg amputation as a result of medical complications from respiratory failure. Others said they quickly became powerfully addicted to vaporizer products – only to come down with severe cases of pneumonia that landed them in the hospital for days or weeks.
However, the Mayo Clinic recently examined the lung tissue of 17 patients who became ill after vaping nicotine or marijuana products, and discovered injuries that look like toxic chemical burns. One doctor told The New York Times looked like the kind of change in lung tissue one would expect to see in a worker who inhaled toxic chemical fumes in an industrial accident or a victim of chemical weapons like the mustard gas used in WWI.
As for e-cigarette burns, BMJ Journals reported last year that the two-year, 2,035 estimate was likely low compared to the actual number of incidents, given difficulty in tracking them. These accounts, too, are horrifying. The Washington Post reported in one case earlier this year, a 17-year-old Salt Lake City boy suffered a cracked jaw, complete shattering of chunks of facial bones, several missing teeth and a hole in his chin after an e-cigarette allegedly exploded in his face. Pediatric surgeons likened his injuries to that of a high-speed car accident victim or someone who had suffered a close-shot gunshot wound.
Vape Industry Runs Afoul of Regulators
These incidents have no only alarmed public safety officials, they've drawn the ire of state and federal regulators. The U.S. Food and Drug Administration last month chastised one vape manufacturer for advertising its products as being safer than regular cigarettes – a marketing claim for which the FDA has not given the required approval. The FDA has only had regulatory oversight of the industry since 2016, when it deemed e-cigarettes to be tobacco products, and thus subject to regulation under the Family Smoking Prevention and Tobacco Control Act.
Eighty percent of vape users who have contracted these respiratory infections are under the age of 35.
Several states expressed alarm about the fact that vaporizer products containing nicotine and THC are sold in fruity flavors that seem tailored to teenagers. Some states have tried to block those sales, but those efforts have been thus far successfully challenged by vape manufacturers in court. Several states are however still pressing forward with lawsuits against Juul Labs, one of the biggest vaping companies, over deceptive marketing practices. Those states include California, North Carolina and New York. Several others are investigating.
The FDA had planned to ban flavored e-cigarettes on these grounds, but President Donald Trump declined to sign off on that ban, citing potential job losses in the vape industry sector.
Suing for Vaping Injury or Illness
Vape manufacturers like Juul insist their products aren't to blame, and too many people are confusing legitimate companies for unscrupulous black market operations.
It is true that black market dealers of vape products are a real problem. Not only are their wares untested, with liquids frequently containing dangerous contaminants, the companies are harder to find later if something does go wrong.
Florida product liability claims for defective design, manufacture or marketing can typically be filed against any entity in the supply chain – but only if you can locate them. Even then, those firms aren't likely to have the resources to pay damages if they are found liable. Conversely, some of the larger vape companies are owned by huge corporations like Philip Morris International, which have considerably deeper pockets. They have the means to defend these cases vigorously, but may be more inclined to extend low-ball settlements (if they can get away with it) just to quell the noise around the issue.
Contact the South Florida personal injury attorneys at Halberg & Fogg PLLC by calling toll-free at 1-877-425-2374. Serving West Palm Beach, Miami, Tampa, Orlando and Fort Myers/ Naples. There is no fee unless you win.
Additional Resources:
Vaping Companies Brace for Wave of Lawsuits Over Lung Illness, Oct. 25, 2019, By Izzy Kapnick, Courthouse News Service