Electric scooters (also known as e-scooters) are with increasing frequency sending South Florida riders to hospitals in Fort Lauderdale, West Palm Beach and Miami. According to the Sun Sentinel, more than 100 people have been transported by ambulance to Broward Health Medical Center in the last year – more than one-third of those with head injuries – following e-scooter accidents.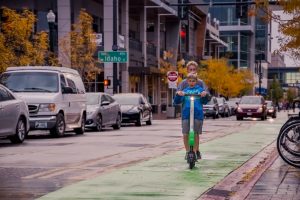 In total last year, there were 146 e-scooter accidents reported in all of Fort Lauderdale. In Miami, there were 87 from April 2019 to mid-January of this year.
As more people are riding and helmets are optional, head and facial injuries from e-scooter accidents has tripled over the last 10 years. Head injuries can range from a concussion to a brain hemorrhage and serious blunt force trauma injuries. Unfortunately, many people still don't seem to realize how dangerous e-scooters can be – which could point to scooter companies' failure to warn the public. One study by researchers at the University of California found that the percentage of serious head injuries sustained by e-scooter riders is double that of bicyclists. Only about 2 percent to 4 percent of injured riders were wearing helmets, according to the UC analysis. Another study conducted last year by the CDC/Austin Public Health revealed only 1 e-scooter rider out of 190 injured in that city was wearing a helmet.
But as our Fort Lauderdale brain injury lawyers can explain, whether a rider is wearing a helmet or not shouldn't necessarily bar anyone from filing a lawsuit against a negligent party responsible for these crashes. This is especially true because as long as e-scooters don't travel more than 30 mph, no helmet is required. Continue reading