Drunk driving is a major threat to Florida motorists, with the U.S. Centers for Disease Control & Prevention reporting nearly 8,500 people were killed in Florida drunk driving accidents between 2003 and 2012. The rate of people who self-report driving after having too much to drink in Florida is 2.1 percent, compared to the national average of 1.9 percent. Florida allows sobriety checkpoints and ignition interlock devices for repeat offenders, but there may be another way to combat the problem. It starts with targeting those repeat offenders.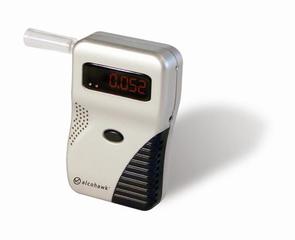 A 2010 study published in the American Journal of Public Health revealed that a person arrested for DUI once was 615 times more likely to be arrested again for the same offense compared to someone who was never arrested for impaired driving. Given that risk, authorities in Colorado (where 40 percent of DUI arrests involve repeat offenders) the state is trying something new.
The Miami Herald reports the state's department of transportation distributed 475 personal breathalyzers to residents of the state who had previously been convicted of a drunk driving offense. These devices allow individuals to test themselves to determine whether they had surpassed the legal alcohol limit, indicating they were not safe to drive. That was over the summer.
Now, the state is reporting notable success with the program. Seventy-five percent of those who received the devices self-reported they had used them and almost 95 percent said everyone who regularly drinks should carry such a device. Only one of those who participated in the program had been convicted of another DUI during that time, and 9 percent said they believed they had driven under the influence. This was compared to nearly one-third who said they had driven while impaired prior to receiving the personal breathalyzer device.
The fact that even participants are supportive of them goes back to the reality that most people are poor judges of their own impairment. These personal breathalyzers could be hooked up to apps on their smartphones, making portability and ease-of-use attractive qualities.
There are personal breathalyzers one can purchase from a variety of product manufacturers, though anti-drunk driving advocates like Mothers Against Drunk Driving are skeptical. The concern is they are not as accurate as the tests used by law enforcement and could give individuals false confidence in their driving abilities. There is also a phenomenon known as rising BAC (blood alcohol concentration) that refers to the fact that while one may not have been legally impaired when they started their journey, they could be by the time police administer a chemical test. This is because alcohol can take time to absorb into the body, so the BAC level is in effect still rising. (This is sometimes used as a defense in criminal DUI cases.)
Still, if it gives pause to even some of the would-be impaired drivers, it's worth the reduction of risk to innocent motorists, pedestrians and bicyclists. In Florida, one need not necessarily be impaired in order to be negligent for causing a crash. (One need not even have a BAC of 0.08 to be convicted of DUI; all that is necessary is to prove DUI under F.S. 316.193 is that the driver's normal faculties were impaired.)
If you are injured in a South Florida DUI accident, our injury lawyers in Miami can help.
Contact the South Florida personal injury attorneys at Halberg & Fogg PLLC., Attorneys at Law, by calling toll-free at 1-877-425-2374. Serving West Palm Beach, Miami, Tampa, Orlando and Fort Myers/ Naples. There is no fee unless you win.
Additional Resources:
After their DUI arrests, they were given personal breathalyzers – and it worked, surveys say, Dec. 1, 2017, By Jared Gilmour, The Miami Herald
More Blog Entries:
Drowsy Driving is a Killer on Florida Roads, Dec. 21, 2017, Miami Drunk Driving Injury Lawyer Blog