Proving that negligence caused an elevator accident injury does not require expert witness testimony, the New Jersey Supreme Court ruled recently – echoing the precedent set by other state courts, including Florida.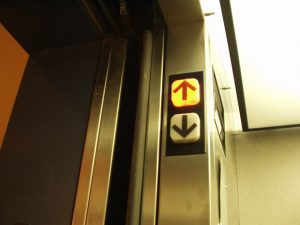 The ruling is notable for the fact that a requirement of expert witness testimony (as necessitated in medical malpractice litigation) is often an expensive and cumbersome process. Although expert witnesses can undoubtedly be critical in establishing key elements of a personal injury or wrongful death case, a mandate such opinion be required to move beyond the summary judgment phase is a substantial hurdle.
Injuries and particularly deaths caused by malfunctioning elevators are increasingly rare (and on the whole, elevators and escalators are safer than stairs). Relying on a range of government data, the Center for Construction Research and Training and the National Institute for Occupational Safety concluded in 2006 that incidents involving elevators and escalators kill about 30 people and injury roughly 17,000 a year in the U.S. Improved technology – and particularly the cables, electronics and pulley systems – have improved drastically since, as noted in a 2013 report by The Washington Post. Those who install and maintain elevators have the potential to be injured due to falls, electrical shocks, muscles strains and other injuries related to confined spaces, scaffolds, cranes, rigging, hoisting heavy equipment and lock-out/tag-out accidents. The passenger safety profile, however, is much better, with the Consumer Product Safety Commission concluding the fatality rate is 0.00000015 percent per trip. Still, a 2008 study published in the journal Accident Analysis & Prevention concluded after a review of 14 years worth of data, the injury rate was 7.8 per 100,000.
In the case of McDaid v. Aztec West Condominium Association, plaintiff, who had cerebral palsy, was a resident of a condo association owned by defendant. She was trying to exit an elevator when the door malfunctioned and began opening and closing on her. After sustaining numerous injuries, she filed a personal injury lawsuit alleging negligent maintenance the condo association as well as the maintenance manager. The elevator was inspected after the accident, revealing a malfunctioning electronic eye.
An expert for plaintiff opined this issue was the cause of the accident, but the case was dismissed by the trial court on grounds plaintiff had not shown defendants had actual or constructive notice of the malfunction (as West Palm Beach personal injury lawyers know is often required in premises liability cases like this one). An appellate court affirmed, but the New Jersey Supreme Court reversed unanimously. Citing precedent in Florida, Arizona, Arkansas, Colorado, Pennsylvania and the District of Columbia, the court pointed to the legal doctrine of res ipsa loquitor. This is Latin for, "the thing speaks for itself," and it's the inference that the fact that something occurred is sometimes proof in and of itself of negligence. With regard to this case, elevator doors, no matter how complex their operation, ordinarily wouldn't strike someone exiting or entering in the absence of negligence. The court noted a similar 2005 case involving automatic doors concluding the same. No rational distinction existed between automatic doors and elevator doors, justices ruled.
Further, justices rejected the idea that negligence involving a "complex instrumentality" – such as an elevator – would require the plaintiff to supply expert witness testimony in order to establish the inference of res ipsa. In other words, plaintiff need to be required to give expert witness testimony to pinpoint the cause of the malfunction, nor should she be required to offer evidence of other possible causes of her injury.
Contact the South Florida personal injury attorneys at Halberg & Fogg PLLC., Attorneys at Law, by calling toll-free at 1-877-425-2374. Serving West Palm Beach, Miami, Tampa, Orlando and Fort Myers/ Naples. There is no fee unless you win.
Additional Resources:
No Expert Needed in Elevator Malfunction Case, Supreme Court Says, July 18, 2018, By Michael Booth, New Jersey Law Journal
More Blog Entries:
Florida Slip-and-Fall Lawsuit Trips Up on "Knowledge" Issue, June 6, 2018, West Palm Beach Personal Injury Attorney Blog