One of the main underlying causes of elder abuse and neglect is nursing home understaffing. When a skilled nursing facility doesn't have the staff necessary to provide each patient with an adequate level of care, it's going to result in frustration, fatigue and mistakes. Stressed and overworked staffers are also more prone to commit acts of abuse.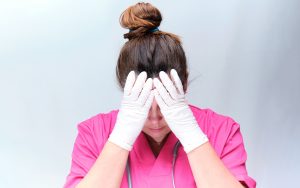 As our West Palm Beach nursing home injury lawyers can explain, understaffing is far from a new problem. A 2002 article published in the Journal of the National Medical Association found that more than 90 percent of nursing homes were understaffed back then.
Studies show that those who reside in a nursing home that is understaffed are at higher risk for:
Bedsores
Dehydration
Malnutrition/weight loss
Infections
Falls
In 2018, Kaiser Health News reported the majority of nursing homes had fewer caretakers than what they reported to the government. Federal records revealed substantial fluctuations in daily staffing – with nights and weekends revealing the greatest shortages. On the days when nursing homes were the shortest-staffed, the average facility required those on duty to care for almost double the number of patients as they did when the facility was fully-staffed.
KHN was able to glean this information from payroll data of more than 14,000 facilities, something that became required reporting under the Affordable Care Act. Medicare's star rating for nursing homes is now taking erratic staffing levels into account.
Loved ones of vulnerable nursing home residents who note these issues should discuss their legal options with an experienced nursing home abuse lawyer.
Reasons for Florida Nursing Home Understaffing
The issue of understaffing at nursing homes can be boiled down into one primary catalyst: Cost.
It is expensive to staff a nursing home, particularly with the certified nursing assistants (CNAs) and registered nurses (RNs) that they need. But nursing home providers have a responsibility to ensure they can provide adequate care when they accept patients. Instead, many end up stretching the staff they do have, often by using overtime. Long hours can mean more money, but many report feeling underpaid despite earning time-and-a-half. On top of that, they're exhausted.
The other problem is that nursing homes tend to have a higher-than-average staff turnover. The jobs at these facilities are demanding and the pay is often lower than what these professionals might earn at hospitals or other health care providers. Finding qualified staffers is especially challenging in more rural areas.
How Nursing Home Understaffing Leads to Neglect
Many nursing home patients require a high level of care, particularly if they are unable to walk, feed, bathe and dress themselves. Patients may need to be regularly turned, require assistance to use the restroom and have help to regularly change their clothing.
In one survey, almost half of nurses working at residential nursing facilities reported an excessive amount of work resulted in things like medication errors, injuries and significant missed changes in a patient's condition.
Our South Florida nursing home negligence lawyers are committed to holding accountable those operations that provide substandard care to some of the most vulnerable in our population.
Contact the South Florida personal injury attorneys at Halberg & Fogg PLLC by calling toll-free at 1-877-425-2374. Serving West Palm Beach, Miami, Tampa, Orlando and Fort Myers/ Naples. There is no fee unless you win.
Additional Resources:
''Like A Ghost Town': Erratic Nursing Home Staffing Revealed Through New Records, July 13, 2018, By Jordan Rau, Kaiser Health News
More Blog Entries:
Florida Supreme Court Asked to Revisit Medical Malpractice "Crisis," Constitutional Challenges, Oct. 18, 2019, West Palm Beach Nursing Home Injury Lawyer Blog