Expert medical testimony is crucial in any Florida medical malpractice claim – for both sides. It's required to even move past the early stages of a case (by presenting sufficient evidence the defendant breached the applicable standard of care for their profession and position). It's also critical in helping jurors determine whether that standard was breached and if so, whether that breach caused the medical injury. Special medical knowledge is pivotal.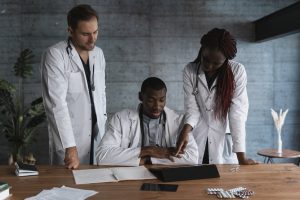 Per F.S. 766.202, a medical expert is defined as a person who is duly and regularly engaged in the practice of his/her profession AND holds a health care professional degree AND who meets the requirements set forth in F.S. 766.102. That provision holds (among other things) that the expert witness in a medical malpractice case must be able to speak to the prevailing standard of care that a reasonably prudent health care provider in the same or similar situation would abide. In order to do that, they need to conduct a complete review of the pertinent medical records, but they also need to be someone who specializes in the same specialty as the health care provider defendant. (For example, a general practitioner wouldn't likely be able to attest to the purported negligence of an anesthesiologist.)
As our Palm Beach medical malpractice attorneys can explain, the fact that a plaintiff's expert medical testimony is so important has increasingly made it a target for defense requests to exclude it. The standard for admissibility of expert witness testimony is called the Daubert standard, after the 1993 U.S. Supreme Court decision in Daubert v. Merrell Dow Pharmaceuticals. Florida previously used the less-rigorous Frye standard, but adopted the Daubert standard in 2019.
Some of the ways defense lawyers push back on expert medical testimony using the Daubert standard:
–Argue that peer-reviewed medical literature is needed to explain methodology in reaching their conclusions. Some defense lawyers argue that for testimony to be admitted under Daubert, medical experts must refer to a specific piece of medical literature that explains the method they used for formulating the opinion they did.
–Argue that the expert's opinion testimony is based wholly on their own credentials, rather than any discernable methodology. Medical expert witness testimony based on pure opinion is not admissible in Florida medical malpractice cases. However, there may be some flexibility, and referencing some specific medical literature is only one way the court might determine if the opinion is rooted in methodology that is reliable. That might include clinical trials, case studies, or some other research.
Some of this might seem a bit like insider baseball. However, we believe it's important for those who have been injured as a result of medical mistake to recognize that these aren't the kind of cases that you can trust to a lawyer with little experience – or one who lacks specific experience in these types of complex cases.
The strength of expert witness testimony can make or break a medical malpractice case. It's what is going to help you establish not only the standard of care that a reasonable doctor would have provided, but also whether your doctor upheld that standard and if they think your doctor committed malpractice. They can also offer other medical details that may help jurors understand what went wrong, who was at-fault, and a medical perspective on your prognosis as a result.
Contact the South Florida personal injury attorneys at Halberg & Fogg PLLC by calling toll-free at 1-877-425-2374. Serving West Palm Beach, Miami, Tampa, Orlando and Fort Myers/ Naples. There is no fee unless you win.
Additional Resources:
F.S. 766.202, Medical Malpractice Claims and Related Matters
More Blog Entries:
When Florida Anesthesiologists Make a Mistake, June 2, 2021, Palm Beach Medical Malpractice Lawyer Blog