Earlier this year, some 750 Revel scooters were introduced to the streets of Miami after the company won a shared moped program bid solicited by the Miami Parking Authority. Now, the New York-based vehicle share company, which operates in several other major cities, has been hit with multiple lawsuits and recently announced it was suspended New York City operations until further notice following a string of serious injuries and deaths in scooter accidents.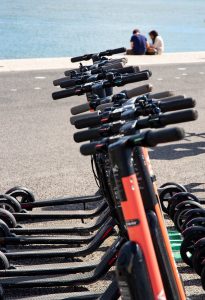 The New York Times reports the change came after the second fatal scooter accident in as many weeks. One of those incidents involved a 32-year-old man killed when his scooter crashed into a light pole. Less than two weeks earlier, a 26-year-old reporter was killed while riding as a passenger after she was tossed from the scooter when the driver suddenly swerved.
The electric-powered blue scooters, which require a driver's license to operate but no training to rent, are largely viewed as a fun, fuel efficient alternative to ride share services, taxis and public transportation – particularly attractive in urban areas at a time when the importance of social distancing is stressed. Riders must be at least 21-years-old and are required by company policy to wear a helmet. The company has been operating in New York City since last spring, and is now the subject of at least 12 personal injury lawsuits related to scooter crash injuries and reported scooter malfunctions. One emergency room doctor quoted by the Times said she'd treated as many as eight scooter crash victims in a single shift.
Prior to halting its operations in New York City, the company suspended more than 1,000 riders for things like failure to wear helmets, riding on sidewalks and other violations of their policies.
Here in South Florida, e-scooters are rented through the app, limited to local streets, with the average trip being about three miles.
Earlier this year, our South Florida injury lawyers noted in our South Florida Injury Lawyer Blog that more than 100 e-scooter accident victims had been transported via ambulance to Broward Health Medical Center last year, more than one-third of them suffering head injuries. Nearly 150 electric scooter accidents were reported in Fort Lauderdale, while Miami reported almost 90 in a nine-month span. Research has shown e-scooter accidents have tripled over the last 10 years.
Who is Liable in South Florida Scooter Accidents? 
The National Association of City Transportation Officials reports there were nearly 39 million scooter share trips taken last year. Yet the question of liability – or legal responsibility in a civil lawsuit – after a Florida scooter accident is still somewhat up in the air. It will depend largely on the circumstances.
In many cases, a rider's personal health insurance (if they have it) can help to offset the costs of their own medical bills. However, if they injure a pedestrian or a passenger, the rider might be responsible. Yet many personal auto insurance policies won't cover these types of crashes (involving vehicles with less than two wheels). One's homeowner's insurance policy might cover injuries for a bicycle accident, but not for motorized bicycles or electric scooters.
The two biggest scooter companies in the country, Lime and Bird, do have sizable insurance policies that will compensate injuries for faulty or defective scooters. Rental agreements signed by riders appear to relieve the firms of liability in case the rider is at-fault in an injurious crash, but those should be considered on a case-by-case basis. Generally, waivers of liability are upheld in court, but many scooter injury cases are only just starting to be litigated through the courts.
If someone has a personal liability umbrella policy, that could cover a scooter operator's liability for damages they cause through use of a "recreational vehicle," but don't expect the insurer to make it easy.
If you're injured in an e-scooter accident, it's important to discuss your legal options with an experienced South Florida injury attorney.
Contact the South Florida personal injury attorneys at Halberg & Fogg PLLC by calling toll-free at 1-877-425-2374. Serving West Palm Beach, Miami, Tampa, Orlando and Fort Myers/ Naples. There is no fee unless you win.
Additional Resources:
Revel Suspends NYC Scooter Service After 2nd Fatal Crash, July 28, 2020, Associated Press