Childhood injuries are a fact of life – but that doesn't mean they aren't preventable or that those who caused them can't be held accountable.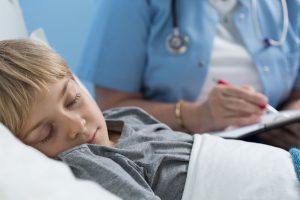 According to the U.S. Centers for Disease Control and Prevention, a child in America is treated for an injury in an emergency department every 4 seconds. Per the National Safety Council, unintentional child injury deaths among is somewhere around 9,000 each year. Hundreds of thousands of kids suffer non-fatal injuries. Car accidents, gunshots, bicycle accidents, suffocation, drowning, poisoning, fires, and falls are among the leading causes.
When these injuries are the result of someone else's carelessness on the road, a dangerous toy, hazardous property conditions, medical mistakes, or lack of property supervision/security/safe hiring practices, etc. – your child may have a viable Palm Beach personal injury claim for monetary damages. However, while it's your child who is hurt and suffering, they aren't going to be the one who pays the medical bills, hires the attorney, accepts/rejects insurance payout offers, files the lawsuit, etc. It will be you as the parent or guardian.
In fact, this is required by law. According to F.S. 744.301, the child's "natural guardians" (i.e., "parents") are the ones who should file an action to recover damages for the child's injury if they are under the age of 18 (unless they are legally emancipated or parental rights have been terminated). Alternatively, the court has the authority to appoint someone else other than the parents to bring the claim on behalf of the child. That usually only happens under narrow circumstances, like when the court determines it's not in the child's best interests to allow the parents to act on their behalf.
If the child's parents are no longer together (or were never married), natural guardianship will go to the parent who has sole parental responsibility. If both share parental responsibility, then both are natural guardians. If a child is born out-of-wedlock, the mother is the natural guardian unless there is a court order stating otherwise.
Natural guardians are allowed to:
Settle and consummate settlement of any claim or cause accruing to their child for personal injury or property damages.
Collect, receive, manage & dispose of any proceeds of any settlement, estate, trust, benefit plans, or life insurance policy.
Waive or release any cause of action against any corporation/owners/affiliates/agents/employees for the child to engage in activity that's inherently risky (think trampoline parks, parasailing, rock climbing walls, etc.). (Basically, if you sign a liability waiver on behalf of your child, that's probably valid unless your lawyer can show it's unconscionable or otherwise unenforceable for its own sake.)
These allowances come with the stipulation that the child's injury claim settlement amount doesn't exceed $15,000. However, if the child's personal injury case settlement amount is higher than $15,000, they need the court's approval. Also, if the parents want to file a personal lawsuit on their child's behalf (working toward an actual civil trial as opposed to mere settlement negotiations), they'll need court approval for this too.
If you win and collect damages in excess of $15,000 on behalf of your child, those funds need to be held in either an annuity or restricted bank account. If you make any withdrawals from that account, you must make sure they are reasonable, necessary, AND for the benefit of the child. Withdrawal requests may need to go through a judge.
The best way to know whether your child has grounds for a personal injury claim/lawsuit is to line up an appointment with a qualified Palm Beach personal injury attorney.
Contact the South Florida personal injury attorneys at Halberg & Fogg PLLC by calling toll-free at 1-877-425-2374. Serving West Palm Beach, Miami, Tampa, Orlando and Fort Myers/ Naples. There is no fee unless you win.
Additional Resources:
Child Injury Control: Trends, Themes, and Controversies, December 2013, Academic Pediatrics
More Blog Entries:
Report: Kids' Palm Beach Bicycle Accident Injuries Up Nearly 170% June 30, 2020, Palm Beach County Injury Lawyer Blog