A South Florida trucking accident has the potential to completely upend and alter innocent lives forever. The way you proceed in the hours, weeks and months that follow can have a big impact on your ability to recover damages for your injuries. In order to know what to do, you must know what to expect.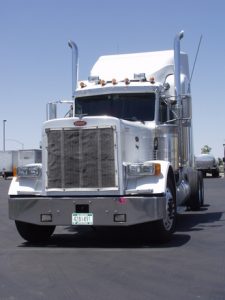 According to the Federal Motor Carrier Safety Administration (FMCSA), nearly 12.5 million commercial large trucks and buses are registered in the U.S., logging some 300 billion miles nationally every year. Of the more than 37,000 fatalities on our roadways every year, nearly 4,900 – or 13 percent – involve a large truck or bus. Annually, there are more than 450,000 large truck and bus accidents reported to police. Of those, 23 percent involve a serious injury – some 345,000 in all. The vast majority of those injured and killed in South Florida truck accidents are occupants of other vehicles. Pedestrians and bicyclists also face an out-sized risk against these highway behemoths.
Florida is among the top five worst states for large truck and bus fatalities nationally. Between 180 and 300 Florida truck accident deaths have been reported every year in the Sunshine State since 2007. Many more are injured.
Complications in South Florida Trucking Accident Lawsuits
One of the things that makes trucking accidents unique from other types of crashes is that they tend to be much more serious than the average fender bender. This isn't especially surprising because trucks generally weigh between 20 and 30 times more than the average car.
Other elements that add to the complexity of South Florida trucking accident claims are:
Commercial vehicles and their drivers are extensively regulated by federal authorities, so question regarding the duty of care owed are different than if you collided with a private vehicle owner.
In Florida, vehicle owners and driver employers can be held vicariously liable for the injuries caused.
The trucking industry is structured in such a way that it is not uncommon to be dealing with several different companies in filing for claims (independent contractor trucker, big rig owner/carrier, shipper/owner of the cargo, etc.).
Working with a South Florida trucking accident lawyer with specific experience handling – and prevailing in – these type of cases is critical.
What Steps Should I Take to File a Florida Truck Accident Lawsuit? 
When it comes to claims for serious injury or wrongful death, there isn't a one-size-fits-all approach. The facts and circumstances of your specific case are going to dictate how we move forward. That's why the very first thing you should anticipate doing is contacting a lawyer. Be prepared to answer questions related to details of the crash, where you sought medical attention, the company that owned the truck (if obvious), the police report, any witnesses (or possible witnesses) and any other details that come to mind.
Once you make an agreement to hire an injury lawyer (on a contingency fee basis – you pay nothing unless/until we win), your attorney will launch an investigation to collect and secure evidence. This could be evidence from the scene itself, including surveillance footage and witness statements, as well as the truck's trip manifest, logbook, toll receipts, bills of lading, maintenance records and other truck driver and company records that might help establish negligence on their part. For example, digital logbook records may indicate the driver had too many hours behind-the-wheel at the time of the crash, an indication of driver fatigue as well as a potential violation of federal Hours of Service rules.
Once this information is obtained, we'll have a better sense of what claims to file against the trucking company and other defendants.
The next phase is discovery. This is an opportunity for both sides to obtain sworn statements from witnesses and others, as well as request records and other evidence from the other side. You may be asked to submit to questions about your life before and after the crash as well as submit to an independent medical examination. It's possible your medical records will suffice, but the question of how much should be paid (if it is to be paid) is often a central question in truck accident lawsuits. Commercial carriers often fight aggressively to establish your injuries aren't as profound or lasting as you allege.
Once discovery is completed (or at least well under way) we'll begin the settlement negotiations. Like most personal injury and wrongful death cases, the majority of truck accident cases will be resolved via settlement. Even if your case does go to trial, the more aspects we can help fairly resolve beforehand, the less complicated, drawn-out and expensive.
If a fair settlement cannot be negotiated, however, we will proceed to trial. This will be your chance to get your case before a judge and/or jury to argue for full and fair compensation for your losses.
Contact the South Florida personal injury attorneys at Halberg & Fogg PLLC by calling toll-free at 1-877-425-2374. Serving West Palm Beach, Miami, Tampa, Orlando and Fort Myers/ Naples. There is no fee unless you win.
Additional Resources:
Traffic Safety Facts: Large Trucks, January 2019, National Highway Traffic Safety Administration