A U.S. veteran died from blood poisoning, due to what his family alleges was medical negligence in the form of a misplaced catheter.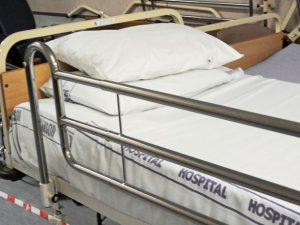 According to MensHealth.com, the medical malpractice lawsuit filed by his survivors indicates the patient suffered from both a traumatic brain injury and multiple sclerosis when he sought treatment at a Veteran's Affairs clinic in Missouri for a condition called neurogenic bladder, common with MS patients. The condition makes it tough for patients to control their bladder function. After his catheter was changed at the facility, the 52-year-old was returned to the facility where he resided, where caregivers noted he had a fever – and large amounts of clotting and blood at the end of his penis. He was rushed to the hospital, diagnosed with a urinary tract infection and also sepsis, a life-threatening complication of bacterial infection.
Plaintiffs allege a CT scan conducted soon thereafter showed the balloon in the Foley catheter inflated not in the bladder, as is the intent, but in the urethra. He died of septic shock last month.
As our Fort Myers medical malpractice attorneys can explain, catheters are a known cause of infection in health care settings and are not only on occasion inserted improperly, but used to excess by patients who don't need them for the convenience of healthcare workers.
Catheters can be used to either remove or provide fluids to the body. Those who have difficulty urinating may have a urinary catheter inserted for purposes of removing urine via  thin tube for days, weeks or sometimes even months. We seem them used a lot post-surgery and in nursing homes when patients are unable to control their bladders. There are also intravenous catheters that deliver fluids and medication via the bloodstream. Other types of catheters include:
Intermittent catheters – Placed in the urethra and changed several times daily.
Suprapubic catheters – Placed through an abdominal incision.
Condom catheters – Placed around the penis similar to a condom, collecting drainage in a bag.
Patients who are given catheters are more susceptible to infection, urinary tract infections in particular.
In recent years as there has been increased pressure to tackle the serious issue of hospital-acquired infection, the U.S. Centers for Disease Control and Prevention and other industry advisory committees have issued specific indications and guidelines for appropriate use of catheters. Registered nursing staff in particular are central to these efforts, and evidence of their failure to follow the applicable standard of care resulting in illness can be the foundation of a Florida medical malpractice lawsuit.
One survey of registered nursing working at seven nursing homes revealed more than half didn't know routine irrigation of intrauterine catheters is contraindicated and nearly as many did not know these devices shouldn't be disconnected from the drainage bag once inserted. Another analysis cited by the Agency for Healthcare Research and Quality noted only 47 percent of registered nurses were competent in inserting intrauterine catheters.
The CDC reminds doctors and nurses to:
Only insert catheters when necessary and remove them as soon as possible;
Ensure only properly-trained professionals are inserting catheters using a sterile technique;
Clean the skin around the area prior to insertion;
Utilize external catheters on men when possible.
If you or a loved one has suffered a hospital-acquired infection owing to an improperly placed or poorly maintained catheter, our South Florida injury law firm may be able to help you fight for compensation of medical bills, lost wages and more.
Contact the South Florida personal injury attorneys at Halberg & Fogg PLLC., Attorneys at Law, by calling toll-free at 1-877-425-2374. Serving West Palm Beach, Miami, Tampa, Orlando and Fort Myers/ Naples. There is no fee unless you win.
Additional Resources:
Veteran Dies After Catheter Was Inflated in His Penis, According to Lawsuit, June 6, 2018, By Melissa Matthrews, MensHealth.com
More Blog Entries:
Did "Alarm Fatigue" Play a Role in Your South Florida Medical Malpractice Injury?, July 17, 2018, Fort Myers Medical Malpractice Attorney Blog